Short Lagoons Fishing Report
Capt. John Kumiski
August 8, 2020
Titusville - Saltwater Fishing Report

A Short Lagoons Fishing Report
Thank you for reading this Short Lagoons Fishing Report. No slam this week! Only fished two days.
Steve Baker RIP. I learned Sunday that old friend and mentor Steve Baker passed away last week. Read my eulogy here...
Tuesday- launched the kayak on the Indian River Lagoon, before sunrise, visions of snook on fly dancing in my head. The snook had other plans. I don't know what those plans were, but they didn't include getting caught by me. Got one redfish on a RipTide shad. Stuffed, baked, and served on a plate it would have made a lovely hors d'ouvre. Did find the baby tarpon rolling, convinced one to take a fly. Said fly pulled out just as the leader hit the rod. Other than the stars and birds, that was my morning. It was quite a pleasant morning to be paddling!
Friday- went to Mosquito Lagoon with kayak. Did not bring the spin rod. Spectacular day, if a little warm. Found a few fish, even through the murk. Convinced a few to take my flies.
Time flies so fast once youth is past that we cannot accomplish one half the many things we have in mind or indeed one half our duties. The only safe and sensible plan is to make other things give way to the essentials, and the first of these is fly fishing. - Theodore Gordon
Life is great and I love my apparent retirement!

Every day is a blessing. Don't waste it- Go Fishing!
John Kumiski, author of Fishing Florida by Paddle- An Angler's Guide
Purchase Fishing Florida by Paddle- An Angler's Guide at http://www.spottedtail.com/fishing-florida-by-paddle/
All content in this blog, including writing and photos, copyright John Kumiski 2020. All rights are reserved.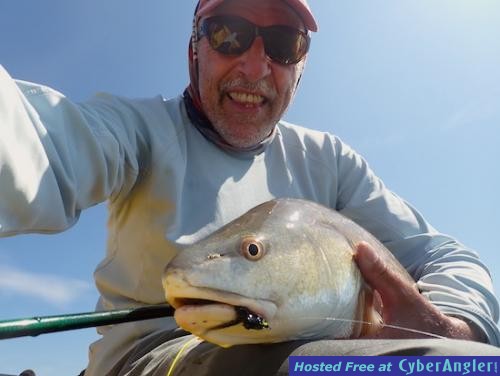 More Fishing Reports: