Spotted Seatrout Mosquito Lagoon Fishing Report
Capt. John Kumiski
May 20, 2017
Titusville - Saltwater Fishing Report

Spotted Seatrout Mosquito Lagoon Fishing Report
Our featured fish this week is the Spotted Seatrout, Cynoscion nebulosus. Because it's pretty much all we caught this week, and we only fished the Mosquito Lagoon, we have the spotted seatrout Mosquito Lagoon fishing report!
The following information on seatrout comes from Wikipedia-
Contrary to its name, the spotted seatrout is not a member of the trout family (Salmonidae), but of the drum family (Sciaenidae). Adults reach 19-32 inches in length and 3-15 pounds in weight. This fish is closely related to the weakfish, Cynoscion regalis.
The average size of spotted seatrout is 1-2 pounds, but in most areas fish up to 5 pounds are fairly common. Fish weighing 8-10 pounds are rare. The world record is 17 pounds 7 ounces.
Small trout eat large amounts of shrimp and other crustaceans. As they grow larger, their diets shift toward fish, the larger, the better. Studies in Texas and Mississippi show that really big trout strongly prefer to feed on mullet; a large trout will find the largest mullet it can handle and try to swallow it. Often the mullet is half or two-thirds as large as the trout.
Spotted seatrout have a long spawning season from spring through summer. It takes between one and two years for seatrout to reach 12 inches, and between two and three years to reach 16 inches. The maximum age of spotted seatrout that have been caught is estimated to be 12 years old, though that is rare, and the oldest fish caught on a regular basis are closer to four or five years old.
By the end of the first year, spotted seatrout are about 10 inches long and about half of them are mature enough to reproduce. They reproduce in shallow, grassy areas of estuaries.
******************************************
Blog post this week-
www.spottedtail.com/blog/my-favorite-alaska-photo-s-a-photo-essay/
Monday the incomparable Tammy Wilson was my fishing partner. First we went scouting for my Tuesday and Wednesday trips. Tammy caught a solid trout on a fluke. Then we went fly fishing. Tammy caught a very nice trout, five pounds or so. Unfortunately I did not get a photo of that fish.
Tuesday Paul Glaser and his friend Trey joined me. We launched at River Breeze, and in six hours only fished two spots, catching slot trout regularly of DOA CAL shad. We saw some big ones but could not make a sale!
Wednesday Tom Finger was my guest on Spotted Tail. Although it was pretty windy the fish were still biting well. Again we got a lot of slot fish, and again the big ones eluded us.
One nice thing about the lack of redfish right now is it's cutting the number of boats out there way down. A ray of sunshine in an otherwise bleak situation.
Thursday son Alex and his buddy Drew joined me. You know what happened- lots of slot seatrout. I got one on fly that was pushing four pounds. Drew hooked something we never saw that pulled a good amount of line out and then came unbuttoned. That was it.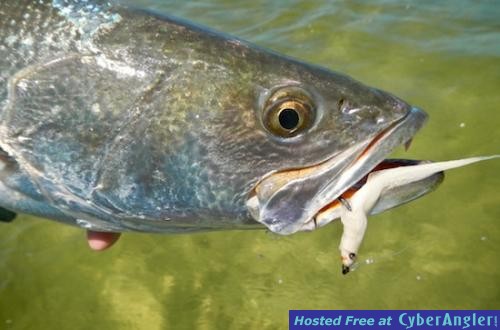 As always, I would like to thank everyone who fished with me this week.
That is the spotted seatrout Mosquito Lagoon fishing report!
Life is great and I love my work!
 
Life is short- Go Fishing!
John Kumiski
www.spottedtail.com
www.spottedtail.com/blog
www.johnkumiski.com
www.rentafishingbuddy.com
www.smashwords.com/profile/view/jkumiski" target="_blank">https://www.smashwords.com/profile/view/jkumiski 
All content in this blog, including writing and photos, copyright John Kumiski 2017. All rights are reserved.

More Fishing Reports: