Three Lagoons Fishing Report
Capt. John Kumiski
September 23, 2017
Titusville - Saltwater Fishing Report

Three Lagoons Fishing Report
Finally, a more-or-less full week of fishing. Our travels this week brought us to the Mosquito Lagoon (twice), the Indian Rver Lagoon (twice), the Banana River Lagoon, the Econlockhatchee River (no fishing though) and a brief stop at Port Canaveral. So we have a three lagoons fishing report.
Sunday I joined Tammy and Mike Conneen for a kayak trip down the still-flooded Econ. It had peaked earlier at 18 feet and on Sunday was at 12 feet (https://waterdata.usgs.gov/fl/nwis/uv/?site_no=02233500&PARAmeter_cd=00065,00060), still mostly over its banks. The weather was awesome and everything was going fine until I took a "shortcut", followed by everyone else.
Before long there was no current to follow and we were darn confused, paddling around in the woods. Mike got the phone out (GPS app). We followed him back to the river, losing about an hour in the process.
When we got to the St. Johns there was no river, only a very large lake. It's still lapping the sides of SR 46 and the CS Lee boat ramp is still closed.
Monday Tammy and I went scouting on the IRL, launching at Parrish Park. The water is high (https://waterdata.usgs.gov/nwis/uv?02248380) and dirty in most places. We fished around some culverts and Tammy got snook, redfish, and ladyfish. She foul-hooked a trophy black mullet. She wanted a seatrout but we could not find one. The mullet may have weighed more than all the other fish combined.
Tuesday Scott Radloff and I did a Mosquito Lagoon survey. This lagoon has by far the cleanest water of the three lagoons, and quite a few mullet too. We actually saw a handful of redfish, getting shots at two and converting one on a DOA CAL shad. I got six snooklets on a #6 Clouser minnow, beautiful little fish that would have looked great in an aquarium. We also got a half-dozen slot trout, one on a jig and the rest on a DOA Deadly Combo.
Wednesday Miss Chellie Gentry joined me for a fly fishing charter on the IRL. In the morning we hit maybe ten culvert pipes. None of them had fish. She finally got her first saltwater fish, a tarpon, on a gurgler. It was a wonderful moment- I'm sorry I didn't get a photo.
Then we hit the pipe I had been looking for all day. The ladyfish were going crazy, and she got three redfish too. They were not very big but they were all on fly. We called the outing a success!
Thursday Mike Conneen and I met to check out the Banana River Lagoon. The water was a soupy olive green. Nowhere could you see the bottom. There was a dearth of baitfish. Mike actually caught a slot trout by blind casting with a Vudu Shrimp. We had the kayaks back on our cars in a little less than three hours.
While in the neighborhood it seemed appropriate to check the ramp at Port Canaveral. They are operational, and in spite of the big seas there were several trailers in the lot. I didn't see any mullet and asked a fisherman who had come in to the ramp if he had seen any. He said, "I fish here regularly. It was dead out there. I used mud minnows for bait all morning and did not get a bite. And no, there weren't any mullet."
The obvious question is, where are they? It's certainly mullet time.
Friday found me back on Mosquito Lagoon with son Alex and his friend John. We fished a couple bars and caught a few trout on spin tackle, then went looking for redfish. We actually found a few (and a few black drum too) but did not convert, and did not get one. About noontime threatening weather caused us to race the storms back to River Breeze. We got the boat on the trailer just as the storms hit us, some darn close timing when lightning is involved.
That is this week's three lagoons fishing report! Thanks for reading!
Life is great and I love my work!
 
Life is short- Go Fishing!
John Kumiski
www.spottedtail.com
www.spottedtail.com/blog
www.johnkumiski.com
www.rentafishingbuddy.com
www.smashwords.com/profile/view/jkumiski" target="_blank">https://www.smashwords.com/profile/view/jkumiski 
All content in this blog, including writing and photos, copyright John Kumiski 2017. All rights are reserved.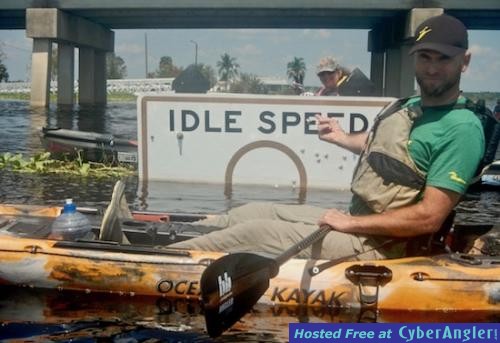 More Fishing Reports: