Clark's Hill/ Lake Thurmond Striper and Crappie report
Capt. Tony Shepherd
February 26, 2018
Clarks Hill - Freshwater Fishing Report

Fishing report.
24 Feb 2018
Clark's Hill fishing report, courtesy of Capt Tony Shepherd.
www.littleriverguideservice.net
Current lake level. 325.97ft msl 4.03 ft below full pool. Surface temperatures vary from 60 degrees on the lower end big water up to 68 degrees in the backs of coves and creeks. The fish have responded by beginning spawning activities normally reserved for march and april. Most notably, The CRAPPIE have pushed shallow and making for some of the best fishing of the year. The male crappie have pushed up into the flooded brush caused by the recent rising waters and are anxiously waiting on their female counterparts, which are staged in just slightly deeper water waiting on the perfect time to move in and make the next generation of Clark's Hill Slabs. Some anglers have capitalized by presenting small jigs and or minnow under a small cork into the holes in and around the shoreline cover. Others have had much success long-line trolling in a little deeper water targeting the staging fish. Pulling 16 rods can be a productive method but not relaxing by any means. Just the opposite, EXCITING. Capt Rocky Fulmer with little river guide service has been trolling this past week and has had consistent success each day but mentions that jig color, speed and depth will change from day to day and sometimes within the day itself.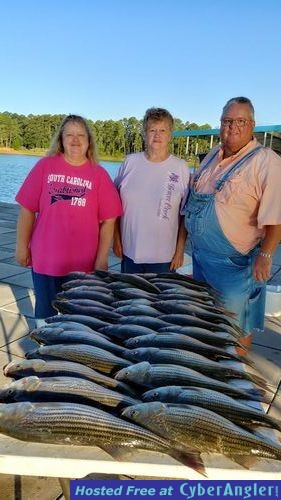 The Striped bass and Hybrids have also reacted positively to the warming trend and are showing up in numbers on the shallow shoals, flats and points associated with springtime fishing. While some fish will be feeding in 6 ft of water, others will be feeding shallow in 60 to 90 ft of water while traveling along their super highways. Experiment on lengths of free-lines or how much small weight to add. Small weights can be a good thing but can also disrupt your trolling when getting close to shallow spots with undergrowth still present from the extended period of low water. Removable weights are ideal in this situation and can allow for a fast transition and conditions change throughout the day,

Not to leave out the Largemouth bass activity, they too have moved shallow and have been responding to flukes, crankbaits, jerkbaits, A-rigs and even some topwater. The trend seems to be 6ft of water and less but they will run in to the cover on the shoreline because the food is hiding in there.
Enjoy the weather while it last. I am sure that old man winter is not finished with us yet, but that will only serve to back progress up for a few days before the normal feeding
Target Species:

Striped bass, Hybrids, Black Crappie
More Fishing Reports: