St Simons Island Winter Fishing
Capt. Tim Cutting
January 16, 2014
St. Simons Island - Saltwater Fishing Report

While January may not be the first choice for many anglers, it certainly doesn't mean put up the gear. For the last three winters the fishing around St Simons Island, Georgia has been spectacular. Although techniques must be changed, once fish are found the bite can be as good as any time of the year. Two species, red fish and speckled trout, tend to school up tightly during the cooler months.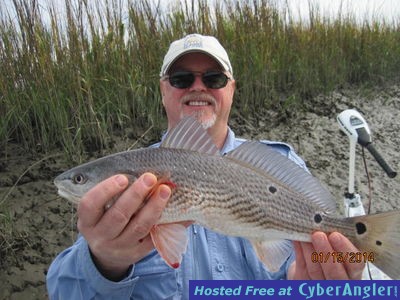 Once an angler catches one fish, chances are he has hit the jack pot. The key in the winter months is to cover lots of water, but work the baits slowly and patiently! In just 4 outings during the first 2 weeks of 2014 we have caught and released nearly 60 trout and redfish. A good carbon fiber rod, braided line and light jigs in the 1/8 ounce range have been the key to our bites.
St. Simons Island Fishing Forecast:

This time of year anglers will have success during the midday hours. That being said, get the boat ready, head out for a nice breakfast, and then fish. Work your baits slowly, and if you can pick a day with low tides between 10:00 a.m. and 3:00 p.m., it will greatly increase your odds!
Target Species:

spotted sea trout, red fish
More Fishing Reports: