Oahu Bonefishing report for July
Capt. Chris Asaro
August 7, 2010
Honolulu - Saltwater Fishing Report

July was the official start of summer time bonefishing on Oahu- the best time for great weather and the much larger fish the island is known for. The fishing is good year round with very few lulls as you already know if you have been following my reports. As July closes, captains like Terry Duffield start to really get excited about another assault on the igfa tippets. We have seen beasts that would easily take out exsisting records so it's just a matter of time now!
As i have promised here are pictures of some of the catches from July and early August. All fish were taken with our own patterns. For pictures of some real beasts go to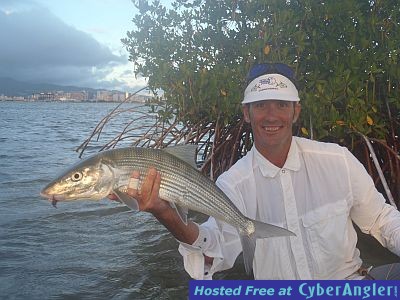 " target="_blank" title="www.hawaiibonefishing.com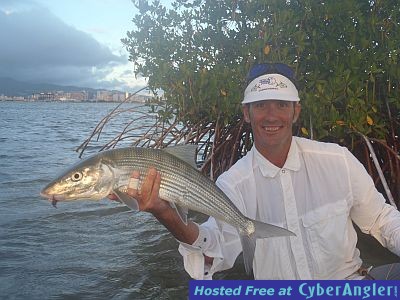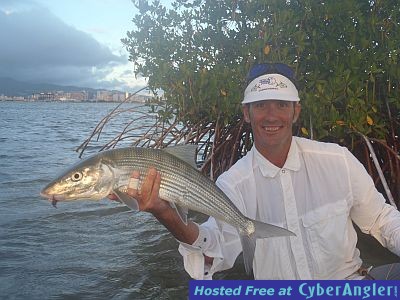 I can't stress enough the importance of preparation before you embark on your Oahu bonefishing trip. As with any larger bonefish, they are not gonna jump on anything that comes thier way so every shot needs to be money.
Long casts are not needed. Shorter [20-60ft], quick accurate casts are a must! Wind is usually a factor on any tropical island. Oahu is no exception. I really like some wind as the fish are much less spooky and more fishable. Take some time fooling around on a windier day with a weighted fly. You'll be glad you did when you hook into one of these turbo charged missles!
Honolulu Fishing Forecast:

The next 6 months are primetime Oahu bonefishing!
winds will be lighter and there will be many bluebird days. Contact your guide if dates are an option and discuss best moon and tide phases for your trip.
Target Species:

Giant Bonefish, Trevally
More Fishing Reports: