Who says you can't catch trout in February???
Capt. Marty LaCoste
February 24, 2012
Dularge - Saltwater Fishing Report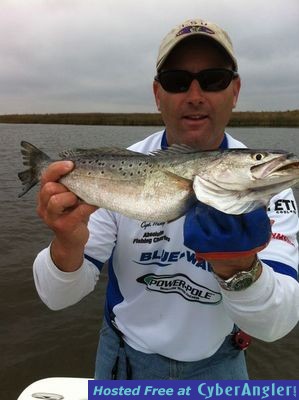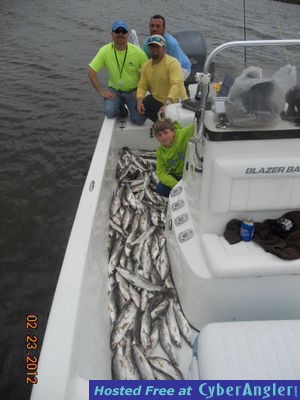 I once heard that you can't catch trout in February. Sure February can be a challenging month to catch trout but you'll never know unless you go. You could be missing out on a trip like we had today. I'm sure many of our fellow Sportsmen thought no way anyone would be fishing today with these winds. We went, saw, and slammed the trout! I fished with part of the A-Team today, Capt. Travis Miller, Capt. Chris Venable, Blake Venable, and Scott Walker. Launching out of Sweetwater Marina armed with the hot new bait called the Matrix Shad. We hit one cut and picked up 3 fish. Made a couple hundred yard move and never left. We had double, triple, and quadruple hook ups. A lot of fish in the 2-4lbs range. The Matrix Shad in Shrimp Creole did all the damage. The bite was slow on the bottom and we often wouldn't touch the bait but just wait for the thump. What was happening was the Matrix Shad would have it's tail fluttering while the jig head would be on the bottom and the trout couldn't resist. By 9am I was counting fish to make sure the clicker was right. As I was counting I heard the guys talking smack and yelling 'get you some' and 'BurnHack'. Great day on the water with really good friends and pictures to boot as I know many of you are sitting at work and love to see them!
Fish on guys, and the Matrix Shad keeps proving itself over and over. The trout love the Matrix Shad as the action and durability are incredible. The A-Team put the hurt on the trout once again, as the ice-chest would not even close. 'Boat load of fish is a under statement'. The bite was off the charts today and the fish were coming in from every direction over the gunnel's of Capt T Millers boat. Props go out to Nightfisher for putting us on the spot once again. Can't get any better than today as the bite was as good as it gets and so was the company. Great group of guys, that all know how to get the job done. Thanks again guys, really looking forward to the rest of the year.

Give me a call if your looking to get in on the incredible bite. Summer trips are booking up quickly as dates are filling up fast. I have a team of 15 Capt's now, so we can take care of all your needs (big groups and small).
Capt Marty LaCoste

985 856 4477
More Fishing Reports: