Dularge Trout Bite Off The Charts 3-13-2012
Capt. Marty LaCoste
March 22, 2012
Dularge - Saltwater Fishing Report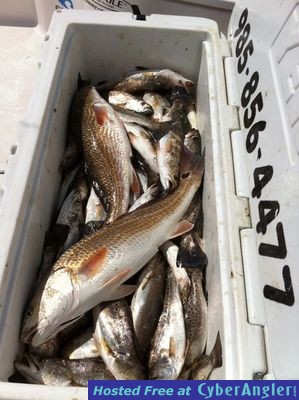 Joey Hedrick, and chance Webre joined me for a incredible day Burnhacking the trout. It was non stop action all day as it couldn't get any better. Over 200+ trout caught today as we left them biting. Made a couple drifts down the shoreline picking up 4 reds after then heading in. Avocado Matrix Shad was the HOT bait today as they were coming in two at a time on the double rigs. Shrimp Creole Matrix Shad and Coco Pepper Cocodrie Cocahoes caught their fare share also. The bite is on folks and will only get better as long as the weather cooperates. It was great having Joey back on board and I'm looking forward to our April trip. Thanks guys for one heck of a awesome day.
Big thanks to Joe with Swamp Swatter, man Swamp Swatter saved us again this morning as the gnats were out in full force. Get u some if you don't have any you will be miserable.
Give me a call and come GET U SOME.
Capt. Marty LaCoste
985 856 4477
More Fishing Reports: