Venice Louisiana Redfish fishing report
Capt. Shawn Lanier
July 8, 2020
Venice - Saltwater Fishing Report

Venice Louisiana Redfish Fishing Report.
July 08 2020.
Fish On Guide Service is open for business full speed even though the virus has many businesses slowed down currently. We are lucky. We have been out fishing at a normal pace, mostly after the keeper fish for the ice chest since Spring. Now that July is here it is time to focus on the big BULL Redfish for the next two months. All my trips until the second week of September are with clients that want to target the oversized Redfish. It's the time of year that seems to be easier to locate the big fish. They give their position more often in the Summer by busting the water or hanging near the more abundant bait pods.
I wish I had something more wonderful and interesting to add, but really I hope something stupid does not interfere with our fishing: like a stupid hurricane, or stupid sharks deciding to move in and tear up our tackle and run the Reds off to deeper water, or anything else that makes my job tough. I like it when tough means I have to lift the Reds in and out of the boat. This Friday kicks it all off for the dedicated Bull Redfish season. We will ice down the water and take a boat ride.
Like us on Facebook and share our page, we appreciate you! There are more pictures too!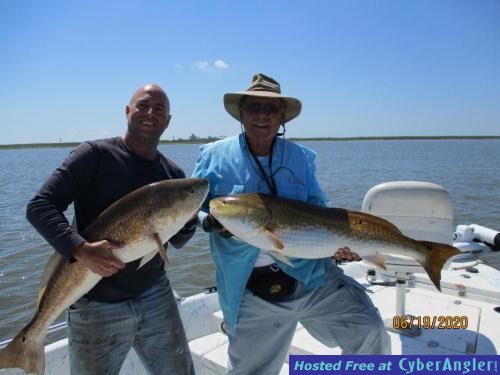 Target Species:

redfish, bullred, bull redfish
More Fishing Reports: