East Cape - A different time
Capt. Mark Rayor
October 29, 2017
Buena Vista - Saltwater Fishing Report

East Cape - A different time
October has been a cra cra crazy and it has been a while since my last report. Water temps remain at 85 degrees and except for our first 3 days of north wind the Sea of Cortez has been calm like a big pond.
The bite has been outstanding with Yellowfin tuna, dorado, wahoo and blue marlin providing constant action. Finding the larger tuna on porpoise schools has been very difficult but the high spots off Pescadero, La Ribera, Rincon and Los Meganos have provided limits of the smaller grade for anglers using calamari and sardines. Wahoo have been cruising the same high spots and it has not been uncommon to get bit off while drifting for tuna.
The buoys off Pescadero and Cabo Pulmo are loaded with bait and the tidy blue water is a perfect environment for marlin and sailfish. Many of the blue marlin have come slow trolling live baits.
For those looking for inshore action Bob Solee released eight roosterfish yesterday on Vaquera.
Tonight Mexico falls back and I'm going to get an extra hour of sleep. Tomorrow it will be a different time.
Getting our first north wind is a reminder that our season is all but over. This is the time we will start to get more and more windy days and sea temp will plummet. By Thanksgiving kite boarders will have taken over and we will be stowing away our fishing tackle.
Tuesday we will be moving all of our boats to the marina in Cabo San Lucas to compete in the Los Cabos Tuna Jackpot. The motto of the tournament to "fish hard and party harder" and that is our plan. Last year we finished 3rd in a field of 187, this year I have first place in my cross hairs.
"Tuna fishing baby, yeah."
Posted are a few of many fun photos on my desk top that were queued up for October reports I never got around to writing.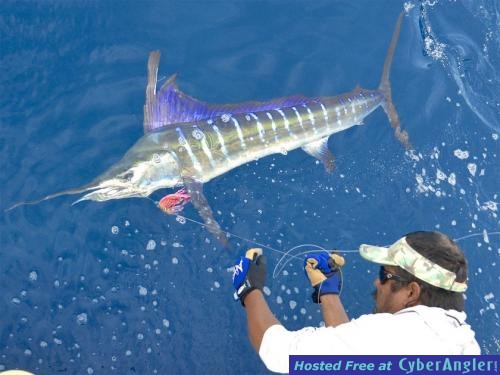 Mark Rayor
teamjenwren.commarkrayor.blogspot.com
www.facebook.com/JenWrenSportfishing
US cell 310 308 58418 5841
More Fishing Reports: