East Cape - May I reflect
Capt. Mark Rayor
November 30, 2017
Buena Vista - Saltwater Fishing Report

East Cape - May I reflect
Well...our weather is still beautiful which is not typical for this time. Because it is normally the beginning of winter and tough conditions to fish there are hardly any anglers in town. We have pulled our boats for maintenance, Rancho Leonero has closed up shop and the other resorts have pulled most of their boats and the fishing fleet is going into hibernation.
Mid to late March is when the prevailing north wind subsides and kite boarders and wind surfers pack it up. That is when I consider the beginning of our East Cape fishing season. Yellowtail, sierra mackerel, striped marlin and other inshore species bend rods and please the few anglers that show up early.
April is always fruitful but May is when the party really starts. Posted are a few of my favorite photos reflecting back from this past May.
2017 will go down as the best rooster fishing of all time. Trophy sized fish showed up in late May and went full speed pleasing anglers for the rest of the season. Next week I'll post up roosterfish photos from our incredible season.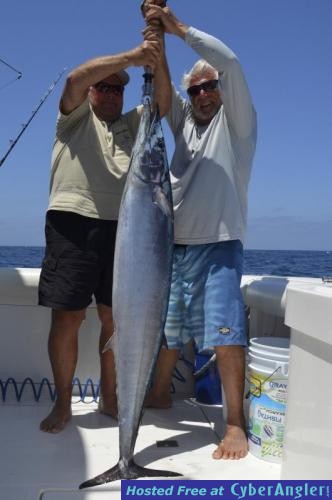 Saturday 7 to 9 listen live to Accurate Jack Nilsen and myself with Pete Gray on the mighty 1090
Mark Rayor
teamjenwren.com
markrayor.blogspot.com
www.facebook.com/JenWrenSportfishing
US cell 310 308 5841
More Fishing Reports: