East Cape - Seakeeper rocks!
Capt. Mark Rayor
June 2, 2019
Buena Vista - Saltwater Fishing Report

East Cape - Seakeeper rocks!
East Cape weather has been postcard perfect. Calm seas, 78 to 80 degree blue water and very comfortable air temperature. There is not much more a person could ask for.
The other morning I was sitting in front of Palmas boat dock waiting to pick up our anglers. It was another gorgeous morning and it seemed like there was hardly a ripple on the water. Then I noticed all the boats rocking side to side. We were rocking as well as I waited for Vaquera's Seakeeper to spin up. It takes about 45 minutes for the 900 pound gyro to reach operating speed of 9700 RPM. Once it does at the push of a button the rock and roll instantly stops. That was when I realized how spoiled I have become and that even in calm seas the huge difference this stabilizer makes.
This last week gamefish have really become a moving target. One day yellowfin are 50 miles off shore the next day 15 to 20. Striped marlin concentrate in an area one day and spread out everywhere the next. Roosterfish bite some days but it is imposable to find sometimes. Gamefish are here but is is kind of like the ups and downs of the stock market right now. There have been days we didn't go more than fifteen miles to find action but others we have had to go the distance.
It is notable that sailfish have been on scorecards and also blue marlin are starting to show. Yesterday a blue was caught and released by one of the fleet boats and we had a dandy take a quick drive-by through the pattern of lures we were trolling. On the other hand dorado and wahoo are not making much of a showing.
All in all fishing is pretty good and we have been able to find action everyday. We like finding our own fish but it is a big ocean and the target has been moving so fast some days we have to listen closely to the VHF radio and rely on info from our friends.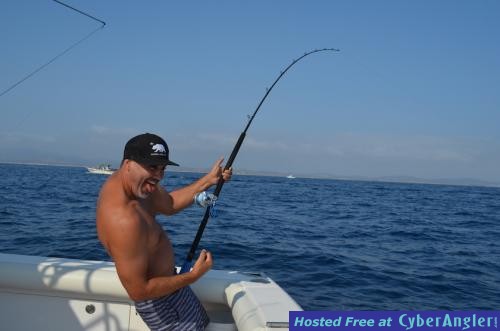 Bent solid!

Sorry Charlie

Lots of sandwiches

Bottom fish action

The Yummie has been effective

Striped marlin providing action

Always exciting

Getting close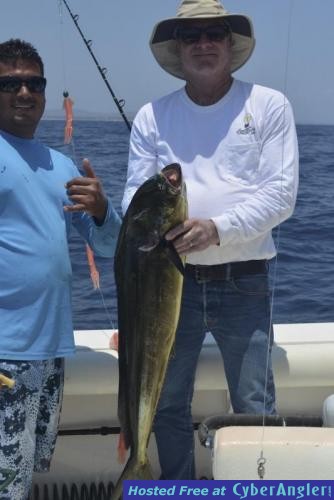 Dorado for dinner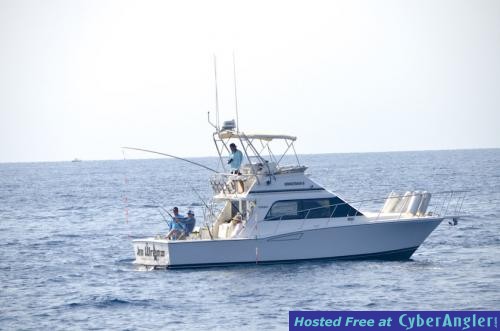 Jen Wren lll skipper Polo has been keeping them bent
Mark Rayor
teamjenwren

More Fishing Reports: