East Cape - Summertime
Capt. Mark Rayor
July 16, 2019
Buena Vista - Saltwater Fishing Report

East Cape - Summertime
It has been more than 2 weeks since my last report and we have been so busy my head is spinning. I'm starting to get hate mail for not keeping anglers informed so quickly here is the dope.
Summer mode has arrived with hot days and stifling humidity. Yesterday sea temp rose to 87 degrees 30 miles off shore. Giant thunderheads are starting to form in the hills every afternoon and we have entered our rainy season. Visitors look at the weather forecast and ask if they need rain gear. Typically it just rains in the hills and not on the beach or on the water unless very sever whether is brewing.
Yellowfin started to bite on the chunk squid drifting in Rincon just south of the light house in 200 feet of water. That bite saved our bacon last year and was good to see. It was short lived though as a couple days of south wind dropped the water temperature from 82 to 74 degrees over-night. Now the wind has laid down and hopes are the bite will bounce back. The tuna bite on porpoise schools continues but sometimes entails long boat rides.
Inshore roosterfish are pleasing anglers. Striped marlin and sailfish have been very aggressive and bending rods. Blue marlin are starting to show just in time for the East Cape Bisbee scheduled for the first week in August. With the blue marlin action we are breaking out bigger gear and will start using our Accurate ATD 50's.
At the last minute we were called to substitute for a boat that broke down on the way up from Cabo to fish the first annual Senoritas Tournament. There were 27 teams and it appeared to me all the ladies had a blast. Skipper Juan Diego Romero led our team to a second place finish.
The rules were a little different than we are used to and there were a couple funny incidents. Every fish over 15 pounds counted for points. First thing in the morning our team hooked and landed a huge jack crevalle. Manuel boated and unhooked the fish and then proceeded to throw it back before the ladies could stop him. The fish would have been worth 100 points if photographed and properly documented. Manuel said "don't worry I'll get you guys a marlin to replace it". In the course of the day they caught and released 4 striped marlin and lost a blue marlin after a half hour in battle.
At the end of the first day Skipper Jesus Ariza proudly announced they had released 6 marlin. Problem with that was they didn't get a photo of the first fish so it didn't count. He protested but the rules are the rules. In the end, Ariza's team walked away with the win and I'm happy that the mis-understanding of the rules didn't cost either team.
Another not so funny story that I want to share. Last week broadbill swordfish made a brief showing. One of the fleet boats that will remain nameless boated one in rough weather. Anglers and crew were very excited as it was strapped on the swim step. They were shocked and it was very sad when the boat got back to the dock and the fish was gone.
Posted are a few random photos of happy faces.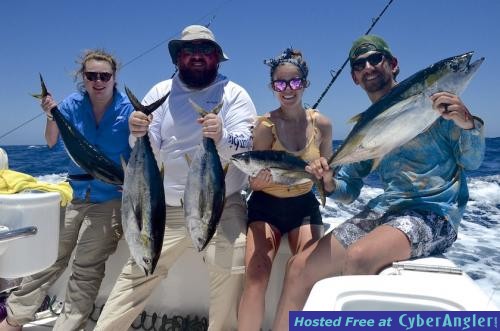 Mark Rayor
teamjenwren
Posted Yesterday by Mark Rayor

More Fishing Reports: