East Cape - Week of firsts
Capt. Mark Rayor
April 15, 2017
Buena Vista - Saltwater Fishing Report

East Cape - Week of firsts
We had our first showing of yellowfin tuna of the season. Most of the fish were a nice 30 to 40 pounds and caught chunking squid or drifting live bait. The bite never really got hot and was just a slow pick for a few weeks. Now that has gone from slow to no pick. Right now there is no other way to describe what is happening but tough.
Each fishing day we have only had a few events and been lucky enough to cash in on them. Stan Lowery brought his 10 and 11 year old grandsons who each caught their first grouper and snapper. He also tangled with his first thresher shark and quickly learned how ferociously they fight. To close the week Jen Wren Jeni caught and released our first billfish of the season.
As quiet as it is at the moment it has not been boring. This week we sighted common dolphin, bottlenose dolphin, giant pacific mantas, orcas, blue whales, humpback whales, gray whales and a couple of the endangered vaquita porpoise. That is not to mention the large variety of pelagic bird life.
I'm watching conditions change everyday. Off shore the water is a nice blue and 76 degrees. Spots of bait are starting to puddle and flying-fish starting to show. There has also been an increase in bird life out there. Just south of Los Frailes a couple of fleet boats located a volume of striped marlin each scoring two or three. That only lasted a couple of days but the stage is set. We also spotted our first swordfish of 2017. Looks like everything is starting to fall in place.

Common dolphin putting on a performance

Tunafish are playing hard to get

First grouper

First pargo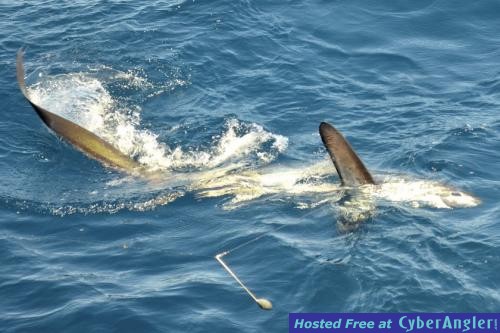 Thresher attack!

Stan Lowery's first thresher

Jen Wren Jeni scores first sailfish of our 2017 season

Adios muchacha, catch you another day.

That is all my hot air for this week, signing out.
Mark Rayor
teamjenwren.com
markrayor.blogspot.com
www.facebook.com/JenWrenSportfishing
US cell 310 308 5841
More Fishing Reports: