East Cape - Where's Willie?
Capt. Mark Rayor
March 16, 2017
Buena Vista - Saltwater Fishing Report

East Cape - Where's Willie?
At the drop of a hat or flip of a switch, however you want to put it East Cape has gone from winter to spring After a somewhat mild winter the Sea of Cortez has been like a pond for days.
While spring has arrived early this year anglers have not. There are only a small handful of boats in the water and very few departures. Fishing reports have been mixed which indicates to me the bite has been inconsistent. The water temperature is 67-68 degrees and warming. My prediction is when it tops 70 the game fish will pop.
A friend that I can rely on said they spotted a broadbill swordfish. That was all the motivation needed to get Vaquera in the water. Yesterday we traveled some 30 miles offshore in search of that swordfish. The surface temperature charts showed a temp break but I was unable to find it or Willie. The amount of sea life we did see was amazing and the stage is set for good things to come.

Vaquera on the water for our 2017 season. Sea of Cortez has been a pond as illustrated in all of these photos

Breaching humpback whales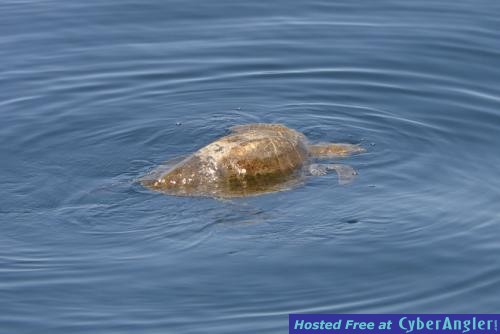 Sea turtles

I was able to meter bait and game fish in our Simrad sounder but couldn't get them to go.

Sighted several never welcome California sea lions

Gives me goose bumps to see a photo of Willie. We couldn't find him yesterday

Now that's what I'm talking about!
Mark Rayor
teamjenwren.com
markrayor.blogspot.com
www.facebook.com/JenWrenSportfishing
US cell 310 308 5841
More Fishing Reports: