Florida Pompano Back At Mississippi's Barrier Islands!
Capt. Robert L. Brodie
September 1, 2009
Mississippi Sound - Saltwater Fishing Report

On Monday I had one of my most regelar clients John Noel from Jackson, MS, as well as his friend Jimmy Childres back aboard TEAM BRODIE CHARTERS.


Stopped off at the Gulf Park Estates white trout reef, and there the bite was a fish on every cast. Could have loaded the boat, but we opted to run to the barrier islands in search of something bigger.
Once there the water conditions were less than perfect, but the two gentlemen fished hard, and were rewarded with 20 big Florida pompano.
These fish were wild to say the least. How wild? Well, one free-jumped into the boat and hit John.
Another fish that John was fighting went airborne and hit John in the chest, and another fish on the line went ballistic and landed in the landing net I was holding in my hand.
And that was inside the boat! Go figure!


As one might imagine these men had the time of their lives catching these hard-fighting and willy jumping fish.
And better yet, they will get to dine on these fish, considered by many as one of the finest eating fish on the planet.
Oh yeah, the big jack crevalles moved in on the shallow flats too, and John had the honors of catching and releasing a huge 35-pound specimen on light spinning tackle.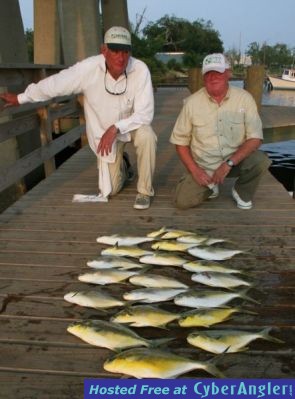 Didn't see any bull reds on the flats, but they should start appearing anytime now. Huge schools of mullet, massive stingrays, sharks, graceful cow-nose rays, and blue-claw crabs are all over the flats, thus making the angling experience one to remember.
It was good to see the pompano back on the flats, and now all I need is some hard-core anglers to hop aboard TEAM BRODIE CHARTERS and persue them.


Listen folks, now is a great time to fish the barrier islands, and the beauty of it is you never really know what might swim by next.
September and October are excellent months to be fishing in south Mississippi, so hop aboard TEAM BRODIE CHARTERS, and let's create some fishing memories of your own.
Regards and many thanks to all,
Capt. Robert L. Brodie of TEAM BRODIE CHARTERS
Cell (228) 697-7707
Web Site: www.teambrodiecharters.com
E-mail: [email protected]

Mississippi Sound Fishing Forecast:

Florida pompano roaming the barrier island flats.
Bull reds, jack crevalles, and sharks are patrolling the barrier island flats too.
Inshore reefs are loaded with nice white trout, as well as a few speckled trout.
Black drum are starting to show back up in the coastal bays.
Target Species:

Florida pompano, sharks, Spanish mackerel, bull redfish, white trout, bluefish, ladyfish, black drum
More Fishing Reports: