Redfish, Flounders, Black Drum & Unlimited White Trout
Capt. Robert L. Brodie
September 24, 2013
Mississippi Sound - Saltwater Fishing Report

TEAM BRODIE CHARTERS (TBC) has been bringing in beautiful catches of fish for the last two months, needless to say the bite has been on fire here in south Mississippi.


You name it: redfish, flounders, speckled trout, white trout aka "sand sea trout", southern kingfish aka "ground mullet" or "whiting", and black drum have been providing all of the action lately.


The beauty is we've been catching fish as close as 5 minutes from the D'Iberville Marina or Biloxi Small Craft Harbor. This is all light tackle bay or Mississippi Sound fishing and the bite is generally fast and furious.


Haven't been to the barrier islands lately, but book a full day trip and we'll go after Florida pompano, whiting and bull redfish.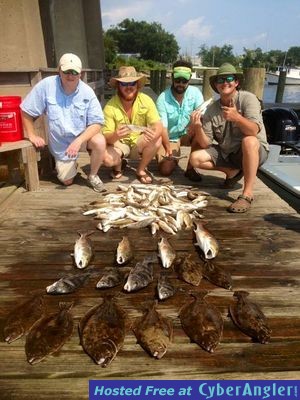 Now is the time to be on the water in south Mississippi and September and October is going to deliver some wonderful fishing days on the water.


As for the white trout...our bread and butter fish...well...it has been easy to box 100 by 9am every morning for the last two months.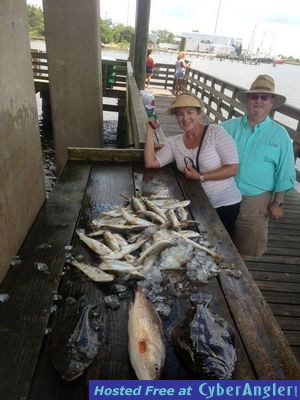 These are delicious frying fish, and their boneless fillets rolled in yellow mustard, then dusted in Zatarain's Fish-Fri, and then tossed into hot grease provide awesome eating. Very mild and tasty!


As good as it has been it's only going to get better so come on down, enjoy our wonderful restaurants, casinos, and fishing this fall and winter.


Remember TEAM BRODIE CHARTERS is a year-round full-time light tackle guide service, and Capt. Brodie has 50-years of experience fishing and duck hunting these waters.


Here are a few pics of a couple of our latest trips, and hope to see new faces soon aboard TBC.
Oh yeah...the diving duck hunts are booking up nicely and have the first two legs of the season fully booked up, but still have plenty opening for the later part of the season running through January 26, 2014.
We may be hunting one day, and then fishing the next. That's just how we roll here at TEAM BRODIE CHARTERS.
Many thanks to all,
Capt. Robert L. Brodie
Cell:(228) 697-7707
Web Site: www.teambrodiecharters.com
E-mail: [email protected] or [email protected]

Mississippi Sound Fishing Forecast:

Look for big catches of white trout and ground mullet to continue for the next 2 months. Catches of 100 fish a day of these trout is quite common, and they eat well too. Inshore...flounders, black drum, flounders, and redfish will continue to add to the mixed bag. Speckled trout under the birds should get hot too, and of course the white trout will be in with them in incredible numbers. The next two months at the barrier islands will be the place to catch Florida pompano and redfish in the crystal clear shallows, and these isles are simply gorgeous. You'll need to book a full-day trip to run out to the magnificent islands. Bottom line the bite will be outstanding so come on down and create your own fishing memories aboard TEAM BRODIE CHARTERS.
Target Species:

Redfish, Flounders, White Trout, Speckled Trout, Ground Mullet, Florida Pompano, Whiting, Black Drum
More Fishing Reports: