September Was on Fire...October Will Be Hot Too!
Capt. Robert L. Brodie
October 4, 2013
Mississippi Sound - Saltwater Fishing Report

TEAM BRODIE CHARTERS last five days of September we really exciting. Catching a variety of fish made the trips quite interesting to say the least.


ABOVE: A collage of some of the fish caught aboard TEAM BRODIE CHARTERS in September. All photography by Capt. Robert L. Brodie
Thursday was a fun-filled outing catching large cobia on light spinning tackle, and Dwight Pharr a regular aboard TEAM BRODIE CHARTERS caught his limit, released more, and lost some monsters on the very light gear. He had a blast!


On Friday had the Don Thomason group...more regulars...and they hammered the white trout boxing 90, and then ran to the barrier islands to catch 2 fine pompano, and caught and released numerous big ladyfish.


On Saturday Charlie and Amelia Fox had a banner morning boxing 180 fat white trout, 1 huge Spanish mackerel, 3 black drum, 1 flounder, and 3 fine redfish. These regulars always load up on our adventures!


On Sunday the Robert Culbertson group boxed 126 white trout, 1 black drum, and 5 beautiful flounders. Robert's all girl group were excellent lady anglers and had a blast hauling in the fish on a fast bite.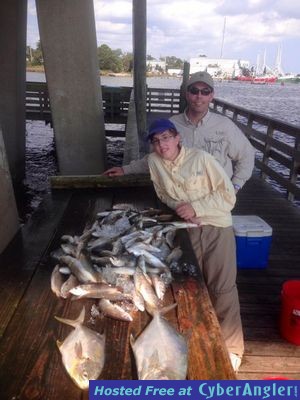 And on Monday...Francis Brick had a banner day fishing the barrier islands in some really rough water. We bounced around in 4 foot seas, but dropping down live croakers produced Francis 5 bull reds...2 were huge...and kept 30 just under the 30-in slot size, a shark, a small cobia, and the last fish was a big jack crevalle.


Once this storm blows through the rest of the month should produce some great light tackle fishing. Come on down the fishing is on fire!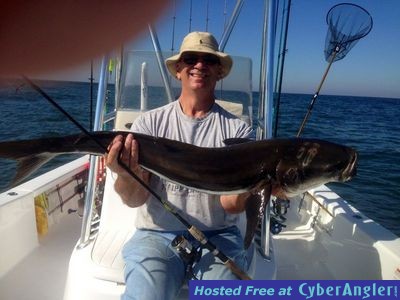 E-mail: [email protected]
Web Site: www.teambrodiecharters.com
Cell: (228) 697-7707
Facebook (2 pages): Robert L. Brodie & Team Brodie Charters
Mississippi Sound Fishing Forecast:

October will produce a wide variety of fish, and you never really know what bite next. Look for the bite on all of the afore mentioned species to continue, and the barrier islands should be good for the highly sought Florida pompano.
Target Species:

cobia, bul redfish, jack crevalle, sharks, white trout, ground mullet, flounders, speckled trout, drum
More Fishing Reports: