Water Levels Running High at the Blackfoot
Capt. Colin McLean
May 24, 2021
Blackfoot River - Freshwater Fishing Report

River Score:


2/5 Poor
The Blackfoot is experiencing raising water levels with increased runoff as the warm weather causes the ice on the lakes to melt off. Water flow speed is increasing as well, making this much more boating conditions than wading. Regardless, we recommend big flies to help the fish see your casts.
We can still fish here if you'd like, but we recommend you check out some other Missoula Rivers.
Current Hatches:
March Browns, Grey Drakes
If you do want to hit the water, book with one of our guides at https://guide-x.io. Make sure to grab a fishing license before you hit the water; you can get more info on that at https://guide-x.io/blog/montana-fishing-license-cost-2021.
River Discharge Levels

Water Flow Speed

River Temperature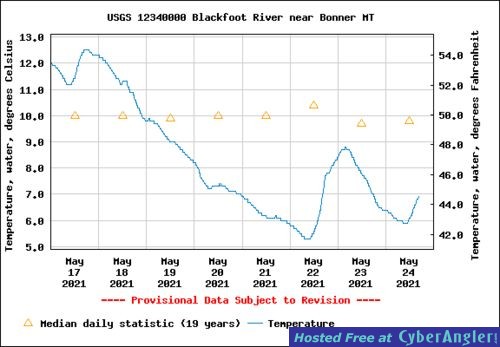 Blackfoot River Fishing Forecast:

Should be better fishing in June
Target Species:

Rainbows, Brown Trout, Cutthroat Trout, Bull Trout
More Fishing Reports: