Big Sharks and Cobia
Capt. Butch Foster
April 26, 2015
Southport - Saltwater Fishing Report

We pulled out of South Harbour Marina this morning with Bud Ratliff and his son Hunter, Wadesboro, NC, Brian Allen, Peachland, NC; Don Caudle, Pageland, SC; and Tommy Long, Stanfield, NC. It was apparent that the forecast and the ocean were not on the same page today but it wasn't too bad so we went to the 300's in search of bottom fish.

Our first stop looked to be very promising with nice Black Bass, Vermillion Snappers, Grey Snappers, and even a very nice 1st Cobia for the year. Then it happened......we were suddenly inundated with huge sharks. Next thing we knew every rod in the boat was hooked up with a big shark. While everyone was fighting sharks a Hammer Head shark was circling the boat that looked to be 500+ pounds.

Today's 1st mate Gage Terry and I got several releases for "Release Certificates" and Don even harvested a 58" fork length Black Tip for some great grilled shark steaks. After playing with the sharks a while and everyone getting sore muscles from all the hard fights with these toothy critters we had to move to another spot to get away from them.

Our next stop was loaded with mostly short Black Bass and I was getting ready to move to another number when the guys said they had all they could handle for one day so we made the run back to South Harbour Marina and after arriving back at 3 instead of 5, I did what I felt was the ethical thing to do and adjusted the trip rate to reflect the shorter time.

I called Phil since we were going to be earlier than normal and he met us at the dock and got the fish filleted and packaged up for the guys to take home with them while they went and had dinner at a local restaurant.

The winds are supposed to blow 15 to 25 tomorrow,that's too much wind so I have already called off tomorrows offshore trip. It's been a very windy, rainy, and cold April and this has made getting out tougher than normal but we are still fishing between the blows and things are slowly but surely coming together for another year of great fishing.

The stream trips have been producing Wahoo, Black Fin Tuna, and some Mahi Mahi.

Backwater is Speckled Trout, Red Drum, Black Drum, a few Flounder, and Virginia Mullet in the river.

Spanish Mackerel are on the way to our beach, they and the bait are just around the corner and the beach water temp today was 65-66 degrees, so look for them any day now and the water is cleaning up fast from all the rains.

I hope to see you on the water soon and as always Thank You all for reading these reports..... you are the reason they are here. And I work hard to give you information you can rely on.

Thanks for all the recent comments on our "Comments & Guestbook" page, I am honored to know and fish with you all!!!!!! And as always, till next time, God Bless You All!!

Fish On!!!
Capt Butch Foster

LUKE 6:38 Give, and you will recieve. You will be given much. Pressed down, shaken together, and running over, it will spill into your lap. The way you give to others is the way God will give to you.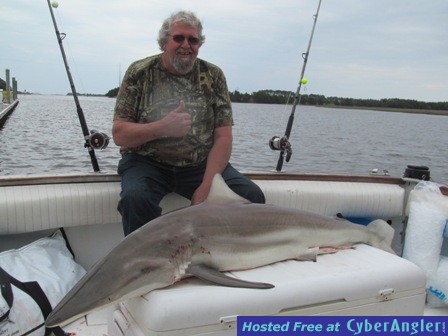 More Fishing Reports: