Walleye bonanza on Lake Erie
Capt. Tom Chambers
July 25, 2009
Lake Erie - Freshwater Fishing Report


Greg and Brenda proudly display a fine catch Of Lake Erie walleye, caught July 18 aboard the Erie Quest: Drifting-n-Casing
With a slow moving cold front passing over Lake Erie this past weekend, we looked forward to casting our gold bladed, Colorado weapons to hungry walleye Saturday morning, July 18 aboard Erie Quest.

Joining me Saturday from Tiffin, Ohio were the Dunbar family. They spent the night in the area and at 6:00 AM we were headed towards the walleye fishing grounds, not far from the Turnaround Buoy. We have been fortunate to have this large school of Lake Erie walleye stay in this area...almost three weeks now. Although, most of these walleye are from the plentiful Lake Erie walleye class of 2003 and weigh a plump 3.5 pounds average...we were forthunate to "stick" several walleye over 26 inched this weekend, with one "Fish Ohio" or Trophy Walleye over 28.25 inches long and a heavy 8.42 pounds.
Caught with a Drift-n-Cast technique, this 28" Lake Erie walleye is a prime example of Lake Erie walleye fishing at it's finest!


Matthew Diem of Findlay, Ohio proudly displays his Trophy Walleye caught aboard the Erie Quest, July 18, 2009 on a copper blade.
The key to walleye fishing this past weekend was working the transition areas of clean and stained water. This yielded many walleye as we drifted from the clean water into the stained waters...where the walleye were waiting in ambush mode. Gold weapons, with a 10 count, and a slight verical lift made all the difference on Saturday morning, as we returned to the dock at Noon, with 38 walleye. Largest walleye of the morning: 8.25 pounds & 28+ inches.

Travis and Matt are happy to show off some of their 38 Lake Erie walleye with Erie Quest Charters.
Sunday morning brought a beautiful partly sunny day to lake Erie, with light west winds 5-10 mph. Ideal conditions for Drifting-n-CVasing for Lake Erie walleye. Our guests today were from NW Indiana and included Jeff Armstong...aka...Bodeen. My hat goes off to you Jeff for the excelent day you had today, both in quantity and quality of Erie walleye. After a 13 mile boat ride, we baited up and went to work. Our efforts were quickly rewarded with a "triple" and then Jeff stuck a fat-n-tasty 26" walleye. Excellent catch on a 12 count, with slow steady wind.

Jeff Armstrong, aka...Bodeen... is a happy Lake Erie walleye angler with this 26" beauty, July 19 - aboard Erie Quest Charters.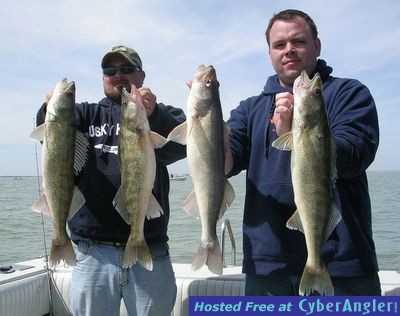 Tim & Greg with Lake Erie walleye caught aboard Erie Quest, on Sunday, July 19, near the Turnaround Buoy
Capt. Rick Millette
Lake Erie Fishing Forecast:

The best time for Lake Erie Trophy Walleyes is in April and May. Some of these lunkers are 10-14 pounds. If you are looking for numbers and want to have a lot of fun, then come see us in May, June or July and feel the excitement when a walleye crashes your lure!
Target Species:

walleye
More Fishing Reports: