Big Water Walleye on Lake Erie with Erie Quest
Capt. Tom Chambers
February 26, 2010
Lake Erie - Freshwater Fishing Report

Lake Erie walleye ice fishing has been excellent the past several weeks in the Western basin.
Targeting walleyes in the winter on big lakes isn't hard once you know that they pre-stage near spawning areas...early. On Lake Erie, these areas include the waters surrounding the Reef Complex, Bass Island area, and areas near the Maumee River Basin...these areas are target rich environments for walleyes.
Lake Erie walleyes are like fish anywhere, they are definitely tuned in to their predominant food source. When ice fishing on Erie...it is very important to obtain the walleye's favorite type of food and offer it up to them. I watched a group struggling on the ice yesterday and then found out that they were not using emerald shiners for bait. Trust me...use emerald shiners boyz and put one on all three hooks of a treble, which is attached to your jigging spoon. It may look odd, but Erie Eyes want a smorgsboard.
Erie Quest fishing tip....Current is also a fact of life on many days on the Great Lakes. Your lure, which would normally show up easily on a Vexilar screen, gets pulled to the side, in a dead zone where you can't see it. Genz has learned to move his transducer 'downstream,' by either drilling another hole for it or letting it read through the ice if conditions allow.

Lake Erie walleye were not far from their food source, though, even during the middle of the day," says Capt Rick. "They weren't chasing a meal around the clock, but they were biting throughtout the day for our Erie Quest Charters guests - as long as you got a bait down into their strike zone. That's another reason to stay mobile and keep looking for fish that will bite. During the daytime hours, you have to get the bait right on top of them a lot of times."
We caught 22 Lake Erie walleye - with the largest being 11 pounds. Most were in the 5-6 pound range.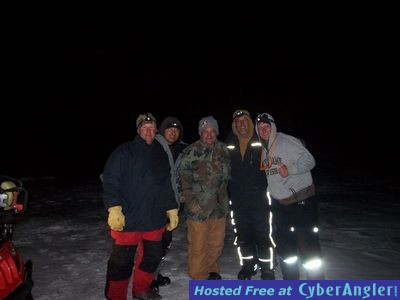 Lake Erie Fishing Forecast:

Ice conditions on any Great Lake should be approached with caution. Ice conditions should be thought of as shifting and unsure, but Lake Erie walleye fishing is great now and is a reward for those who travel carefully when conditions are good...call Erie Quest Charters today
Target Species:

walleye
More Fishing Reports: