Alagnak River Fishing Report
Capt. John Kumiski
June 29, 2019
Other - Freshwater Fishing Report

Pre-Season Alagnak River Fishing Report
Thank you for reading this Alagnak River Fishing Report! And I don't mean we're fishing before the legal fishing season. We're fishing before our Katmai Lodge guests begin arriving.
For those of you not up-to-date on your Alaska geography, the Alagnak River is about 200 miles southeast of Anchorage, part of the Bristol Bay drainage. The nearest town is King Salmon. Katmai Lodge is our base on the river.
Speaking of king salmon, some effort has been expended fishing for them. All we've caught so far are jacks, precocious males that have not spent much time at sea. We've yet to hit a full-grown adult. Back-trolling, spin-casting, and fly fishing have all been tried, with varying degrees of success. The big ones should be arriving any day now.
Another anadromous fish that has begun showing in the river are sockeye salmon. Hundreds of thousands of these fish will run up the river to spawn, and die. Many people consider them the finest eating salmon species.
Tom Van Horn and I ran up the river last week looking for rainbow trout. We found them, and grayling too. Trout were caught on articulated black leech patterns and egg-sucking leeches. Grayling were taken on dry flies.
I went up the river yesterday with Luke and Dan, Michigan natives both. Those Michigan fellows know their trout fishing! We did well on leech and mouse patterns.
The weather all week has been spectacular, cool in the morning and bright, sunny, and almost Florida hot in the afternoon. Our biggest weather-related problem has been sunburn.
That's this week's Pre-Season Alagnak River Fishing Report! Thanks for reading!
Life is great and I love my work!

Life is short- Go Fishing!
John Kumiski
www.spottedtail.com
www.spottedtail.com/blog
www.johnkumiski.com
www.rentafishingbuddy.com
www.smashwords.com/profile/view/jkumiski" target="_blank">https://www.smashwords.com/profile/view/jkumiski
All content in this blog, including writing and photos, copyright John Kumiski 2019. All rights are reserved.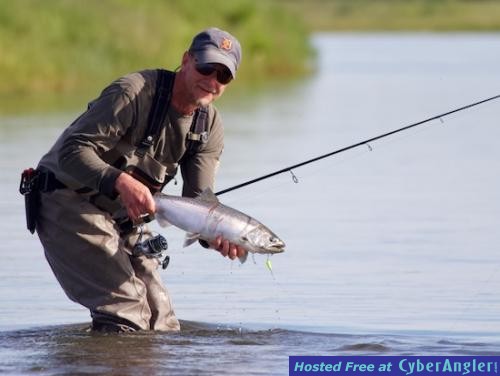 More Fishing Reports: