Brooks Falls Alagnak River Fishing Report
Capt. John Kumiski
July 21, 2019
Other - Freshwater Fishing Report

Brooks Falls Alagnak River Fishing Report
Thank you for reading this Brooks Falls Alagnak River Fishing Report.
Subscriber Sandra from Michigan sent me the following-
"Please post a pic with Lucas in it. My son and I love looking at your posts."

So here is a gratuitous pic of Luke, taken last year-
The observant reader may have noticed the title of this week's post includes the "Brooks Falls" word sequence. Wikipedia says this about Brooks Falls-
Brooks Falls is a waterfall located within Katmai National Park and Preserve in Alaska. Located on the Brooks River a mile and a half from Brooks Lake and an equal distance from Naknek Lake, the falls are famous for watching salmon leap over the 6 foot falls to get to their Brooks Lake spawning grounds.
Consequently, large populations of brown bears and grizzly bears are attracted to feed on the spawning salmon. Brown bears usually congregate at the falls in July and early September, and many well-known photos of bears have been taken there. Bears in July are the greatest concentrations seen at any year at the falls; up to 25 bears have been seen at one time at Brooks Falls in that month. In September, a smaller number of bears (maximum about 18 at one time) can be seen at the falls to feast on the later salmon runs. July and September are by far the best months for viewing grizzly bears in the Brooks Camp area.
Katmai Lodge guests frequently take a float plane to Naknek Lake and walk to the falls to view the action. I was included this week and got the photos below.
Fishing
Sockeyes continue strong. That can't last much longer. But everyone is filling their fish boxes in the meantime.
The chums have showed up in strength. People are having exhausting 30- and 40-fish days, mainly by swinging pink streamers. I love the chums!!
Kings are still being caught. The run was not strong, but if you persevere you can get them by casting Vibrax in soft water.
Trout fishing is in that transition period when they're waiting for the egg drop. As a result the trout bite is slower than is was. It will pick up again as the chums start dropping eggs.
In non-fishing news, some blueberries are ripe. We spent nearly an hour today picking and eating blue- and salmonberries. Yum!
That's this week's Brooks Falls Alagnak River Fishing Report! Thanks for reading!
Life is great and I love my work!

Life is short- Go Fishing!
John Kumiski
www.spottedtail.com
http://www.spottedtail.com/blog
www.johnkumiski.com
www.rentafishingbuddy.com
https://www.smashwords.com/profile/view/jkumiski
All content in this blog, including writing and photos, copyright John Kumiski 2019. All rights are reserved.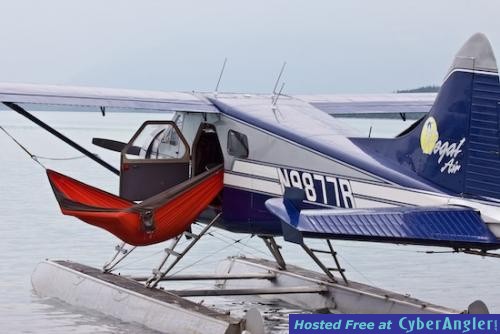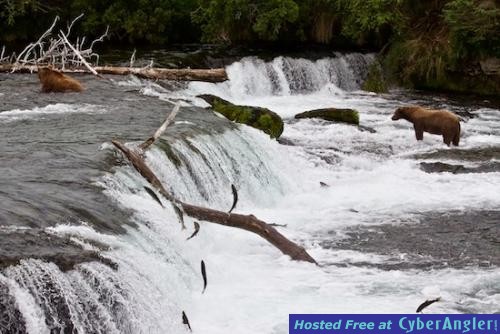 More Fishing Reports: