Marquesas by Mothership
Permit and Shark Flyfishing West of Key West
by Captain Don Perchalski
. . .Continued from previous page.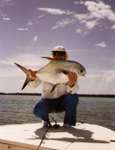 It didn't take long before we spotted a single tail waving in the air about a cast and a half away . We were almost in range when the tail went down, we stayed put hoping the tail would pop up again when I spotted the fish moving toward the channel sixty-five feet at eleven o'clock . I gave Mike the coordinates and without a second thought he put the crab right on the money . If I had walked that fly over and set it on the bottom myself, I couldn't have gotten it closer . The fish pounced on the fly and the chase was on . We followed him off the flat, across a channel , onto another flat , back across the channel and after ten minutes Mike had fifteen pounds of permit wallowing beside the boat. Not a bad catch on eight pound tippet. Scott and Al were on the scene by now and burning up film. When the photo session was over Mike released the permit, none the less for wear. What made this catch such an outstanding one was when Mike turned to me and said, "I never saw the fish." When guide and angler come together and make it all happen as a team, that's what it's all about.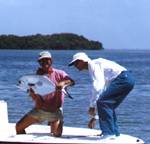 We poled on down the flat and had several more opportunities at some very impressive fish. One fish would have easily gone thirty-five pounds. Unfortunately these were missed opportunities. That's why they call it fishin' and not catchin'. By now it was time for a lunch break and Mike kept talking about breaking in his new twelve weight Fin-Nor large arbor. I told him that I knew where we could find a shark or two that just might work. It took us about ten minutes to run to the area which I call "The Lakes," not to be confused with Lakes Passage. Usually this area is a great spot to find laid up tarpon but for some strange reason there was a serious lack of tarpon the week we were out there. Might as well blame that on El Nino too.
It didn't take long to spot the first shark, a nice lemon . Mike lobbed a bright orange deceiver in front of the shark and he ate it with all the enthusiasm that we expected then headed for the horizon. The drag on the Fin-Nor reel was flawless. About two thirds into the backing Mike stopped the first run and began gaining line. After fifteen minutes or so we had one hundred and thirty pounds of shark along side the boat and all we could do was look at each other as if to say, well we've conquered the beast! Now what? Mike was quick to point out that I was the guide and so I went to work. We gave Al and Scott a call on the VHF and they quickly joined us. Scott was hooked up immediately and soon after they also had one hundred plus pounds of shark beside the boat.
Sharks are wonderful creatures. They provide some of the best practice that a fly fisherman could ask for in preparing for big game on a fly. When I teach fish fighting techniques I find that most people are reluctant to apply pressure to the best of the tackles ability. Look at it this way. A hooked fish thinks he's going to die and he's go to give everything he's got to try and escape. If the fish gives one hundred and ten percent and you only give ten guess who's going to win. To many anglers hang up their twelve weights at the end of tarpon season, Instead, they should keep them handy so when that monster two hundred pound shark swims by while you're having lunch, jump up and toss a fly at him. If you happen to lose him, so what it's only a shark. As a matter of fact, try to break him off, I think you'll be surprised just how much pressure your tippet can really take.
The Marquesas Keys are a multifaceted island group approximately twenty-three miles west of Key West. Huge coral heads lie a short distance off the beaches. Endless miles of flats surround the atoll with deep water channels slicing up the inside flats into nice neat sections. The tannin stained creeks on the east side seemed out of place remind me a little of the Everglades. Mothership is positively the best way to fish the Marquesas Keys. In the morning you're on the water as much as two hours before seeing any boats coming from Key West. In the evening with the extended daylight hours of summer you may fish three to four hours after the last guides have headed east. As the sun went down on our last evening I watched a school of tarpon rolling and gulping air as they made their way towards the center of the atoll. I'll have to come back for them another time, right now Val and Ken have an ice cold beer and a fat steak waiting for me on Latigo; Giddy up!
Click on above photos for larger version,
remember to use your browser's back button to return.


Previous Page


You can contact Latigo & Capt. Don Perchalski at:
1021 11th Street, Ocean
Marathon Marina, Slip #73
Marathon, FL 33050
E-mail: latigo@gate.net
305-289-1066
800-897-4886

Back to Flyfishing
---
| Articles | Fishing Reports | Tournaments | Fishing Guides | Flyfishing |

| Travel | Marketplace | Weather | Jump Aboard | Feedback |
| Fishing Links | Forum | Search | Home |

---
Copyright © 1997-1999, CyberAngler
Questions and comments: Please use our Contact Form.