Night Slamming
Grand Slam on Fly – Under the Lights
by Captain Scott Graham
Page 2 of 2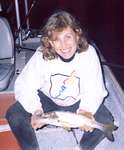 Another thing to look for in a light is what type of light it is and how bright is it. The best situation is to have an incandescent bulb (yellowish in color) directed straight down into the water. These are better than the more numerous and brighter mercury vapor type (bluish color). I will refer to these two types as either yellowish or bluish. Now notice that we have just discussed "Snook Lights" in particular - the type of light that attracts the Trout is different.

A Trout light is typically a very bright blue light that is pretty high off the water maybe 6-8 ft. These lights illuminate a relatively large area of water. For example, a snook light may have a circle of light 3-10 ft. across but a trout light may be 20-60 ft. across. The trout seem to like the bluish lights - the brighter the better. The funny thing that I have learned about the reds is that they seem to intermingle with the snook and the trout under a variety of current and light conditions. I like that aspect because it kind of introduces a wild card - you never know when one will pop up.

All right, you've found a promising light, now what? Well, lets move on to tackle and fly selection. On my night fly fishing charters I have seen Snook landed on everything from a five weight to a twelve weight, but an eight weight with a floating weight forward line will handle most everything you will encounter. There's always a chance of being outgunned by the occasional screamer but the bigger weighted lines land too hard and tend to spook the fish. So, the biggest I would go is maybe a nine weight.

As far as leaders, I prefer a long one as much 12'. The reasoning here is that you can reach farther across the light circle without showing them your fly line. If the water is clear, I will go down to a couple of feet of 20 lb. fluorocarbon shock tippet but if the water is a little on the dirty side I like to step it up to 30 lb. The two most common mistakes concerning leaders is using too short a leader and not checking for damage after landing a fish. Even a small snook can ruin a 30 lb. tippet so check and retie as necessary or you will regret it.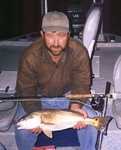 Next I would like to talk about the downfall of many would-be "light fisherman", and that is fly selection. My best advise is to forget about what works in the day time as you will only be frustrated. The most important thing to remember is that color doesn't matter as long as it is white. And one of the best of all "white" flies for fishing the lights is the crystal shrimp because its effective on all three of our targets. Just note that when the water is clear or the fish are inactive you should go down in size as small as a #6 tie. When the fish are more active I may go as high as a #1. This principle seems to apply to other patterns as well. Also, trout and reds seem to favor larger flies than snook. After you have gotten used to this game and you just have to experiment go ahead and experiment with color, but I'm confident that you will find that white always out produces any other color no matter what the pattern.
Eventually, there will come a time when you will find fish feeding aggressively but you can't buy a hit. This usually means they are gorging on glass minnows. A white glass minnow pattern as small as a #6 is often effective in this situation. So, if you just remember that clear water and slow action means smaller flies and lighter leaders and stick with white patterns you will do well.
Let me mention a few things about tides and times to fish. There are really only two facts you need to know here. First, moving tides mean feeding fish. And second, given you have tide movement the later it gets the more active the feeding - right on up to daybreak. We're talking in relative terms here because often times you can find good action right after nightfall but the fishing will just keep getting better as long as you have current.
Okay, I think I've given you the spark and hopefully enough information to go out and experience the fun of taking all three of these Florida favorites in one night. When it happens, I hope you enjoy "Night Slammin" as much as I do.


Previous Page
Click on above photo for larger version,
remember to use your browser's back button to return.

You can contact Capt. Scott Graham at:
17454 Hwy. 301
Dade City, Florida 33523
E-mail:

[email protected]
Phone: (352) 567-0543
or visit his Web site:
In The Wild Outfitters

Back to Flyfishing
---
| Articles | Fishing Reports | Tournaments | Fishing Guides | Flyfishing |
| Travel | Marketplace | Weather | Jump Aboard | Feedback |
| Fishing Links | Forum | Search | Home |
---
Copyright © 1997-1999, CyberAngler
Questions and comments: Please use our Contact Form.