2009 Ranger Banshee
Boat was won at the Gulf Shores IFA redfish tour event. Certificate is for a Ranger Banshee, with Yamaha 40-hp 4 Stroke (MSRP $5200.00), Loadmaster trailer (MSRP $1400.00), 6 ft Power Pole shallow water anchor (MSRP $1,244.50), Minn Kota Trolling Motor (MSRP $750.00), and Hummingbird Electronics (MSRP $200.00). The engine, trailer and accessories total up to around $8800.00. Retail with all the extras goes for over $21K. This certificate can be upgraded to another Ranger boat, like the Banshee Extreme through many Ranger dealers. The 2009 model has the new improved deck cap. The boat has never been titled, making the buyer the original owner. This will qualify you for Ranger points in the IFA redfish tour and other Ranger affiliated fishing events.
We are asking 15,000.00 obo. This price is 6K+ off MSRP. Order the new boat the way YOU want it, the color you want it and save big bucks.
Contact Jim Chalkley at 850-819-9288 - email
[email protected]
or Robbie Green at 850-694-8602 – email
[email protected]
for more information.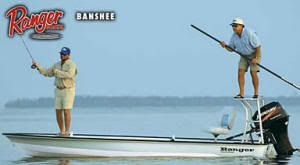 Gliding across incredibly thin, ankle deep waters, the all-new Ranger 168 Banshee is designed to take shallow water angling to the next level. From saltwater to fresh, this unique rig is built to take on a world of angling action. It's sleek, low profile design helps it move with quiet, controlled ease, even in windy conditions. Big on performance and all-around versatility, the 16-foot 8-3/4 inch Banshee is extremely responsive and easy to maneuver. The super shallow draft and extra dry ride mean the Banshee is right at home whether you're poling the saltwater backcountry or running a freshwater trotline on a nearby lake. Hole shots are extremely quick and shallow. Equipped with built-in trim tabs, the tiller driven Banshee is rated for outboards up to 40-horsepower. Additional exclusive features include a patented, pultruded fiberglass transom and stress-absorbing fiberglass stringer system. This optimum strength design is engineered to deliver a responsive, one-piece-feel to the ride, handling, and fishability features.
Manufacturer - Ranger
Model Year - 2009
Model - Banshee
Length (feet) - 16
Length (inches) - 8
Length (LOA) - 16 ft. 8 in.
Beam - 83 in.
With Rubrail - 84.5 in.
Height (transom) - 20.5 in.
Depth (inside) - 11.5 in.
Draft (drive up) - 4.5 in. (engine up, batteries, fuel and accessories
Weight (dry) - Deck / Hull: 650 lbs.
Maximum Capacity - 950 lbs.
Hull Type - Modified Vee
Hull Material - Fiberglass
Drive Type - Outboard
Engine (Max) - 40 hp
Fuel Type - Gas
Fuel Capacity - 6 gal. (portable)