December 16th, 2010 Mosquito Lagoon Fishing Reports
Intense weather patterns are moving redfish and spotted seatrout the past several weeks back and forth from the deeper waters to the shallow grass flats depending upon the temperatures that are going on during the cold fronts we are experiencing. Along with the winds, backcountry waters throughout the entire Mosquito Lagoon have been the most active and allowing you to find seclusion from mother nature. Weeks of great sight fishing have been producing extremely good numbers of trout, redfish and the occasional black drum.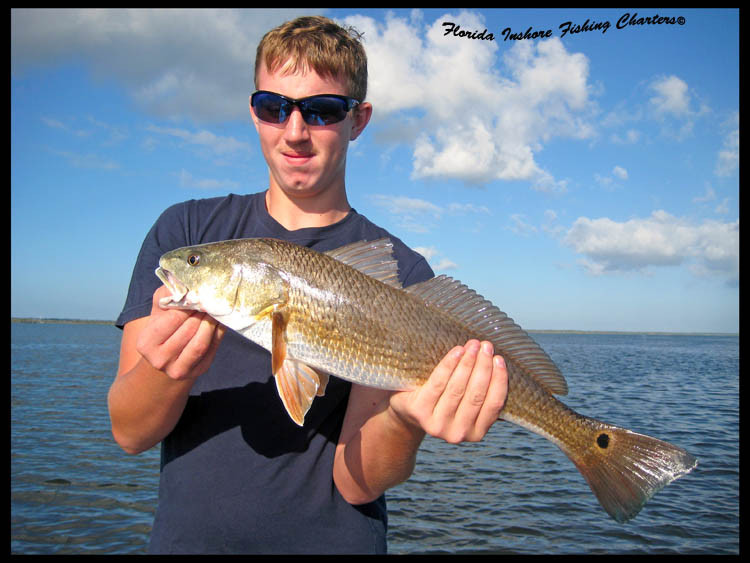 With water levels dropping for our routine of winter fishing it is causing the red fish to start to school up in their famous winter schooling patterns. Shallow back country flats will be your best bet for sight fishing and flats fishing here in east central Florida. As we get more and more cold to cool fronts moving into the area the redfish bite will take off. Days of gin clear water are at our doorsteps.
Top choices of tackle and tactics this time of year have included live blue crabs in the size range of a silver dollar or so along with a select jumbo shrimp. These choices are easily rigged onto 3 feet of 15-20lb leader with a 3/0 circle hook. A well placed cast across and in front of tailing redfish with a soft retrieve to the red fish will most definitely produce some of the most exciting action of the holiday season. Do not be shocked or surprised if you should reel in a nice trout. They are in the darkness awaiting and watching at times. Winter sight fishing on the Mosquito Lagoon is by far the best in the state of Florida.
For those of you using artificial's your best choices this time of year for either bigger trout and redfish(both fish should always be handled with extreme care for higher survival rates. Trout must be released at this time of the calendar year as well. It is the law here in this region.) will include the D.O.A. shrimps or CALS. pretty much all of the colors will work. Try a natural looking one is my choice. Either rigged weedless or with a jig head should work fine in the clear water. However as always take in mind your approach to these fish among the flats. A stealthy slow attack will always produce higher quality days. Try to always approach your targets from your poling platform at greater distances. This will allow you a quitter approach and a better line of sight to your targets. Please also do remember your fellow anglers out there as well and be aware that the Mosquito Lagoon does have to pole and troll zones within its boundaries.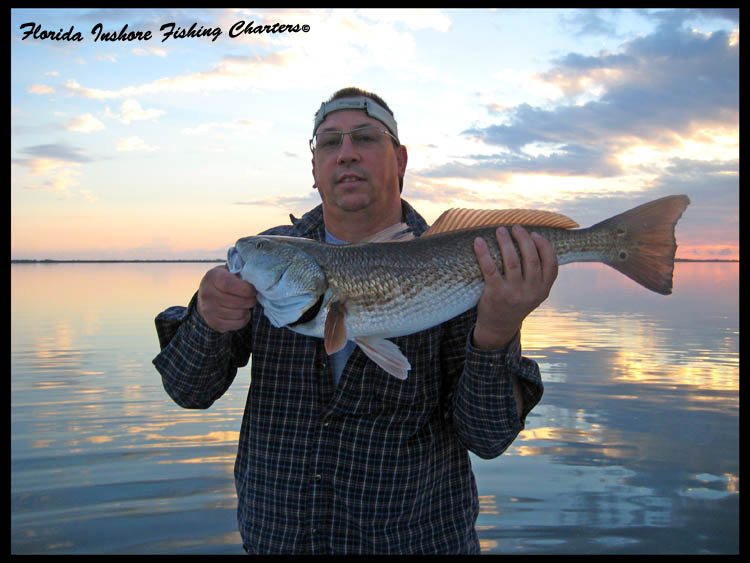 Smaller schools of black drum are moving about the flats as the warming of the sun tends to intensify their appetite. A small blue crab(size of a quarter) on a 2/0 circle hook should do the trick well. of course a shrimp placed within sight of them should work well too. They are very high strung so take your time with them. Watch for bait pods and birds feeding with signs of activity mixed in as well.
I want to wish everyone out there a very safe and happy holiday season.
Captain Drew Cavanaugh
Florida Inshore Fishing Charters
PO BOX 881
Edgewater, FL 32132
Cell/352-223-7897
Office/386-210-4082
Visit Us At:
http://www.floridainshorefishingcharters.com/
Email Us At:
drcfishmaster@cfl.rr.com