Lake Erie's southern shore line is a excellent venue for night walleye fishing. Treat yourself to the Trip of a lifetime. Night walleye fishing is all together different than day fishing and will give you an adrenalin rush addiction!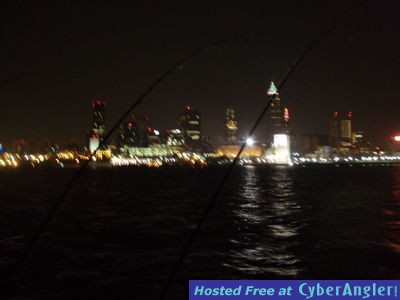 Night trolling for walleye is fun and exciting. But before you can start having fun, you must be set up properly and understand every procedure thoroughly. The advice given is to be heeded by all means with ultimate respect for the Lake, the darkness, conditions, equipment and yes, Murphy's Law.
Huge trophy fish are readily caught in the spring and fall. The spring night trophy season normally begins around the second week of April and lasts until the end of June. The fall night trophy season normally begins mid October and ends around Christmas.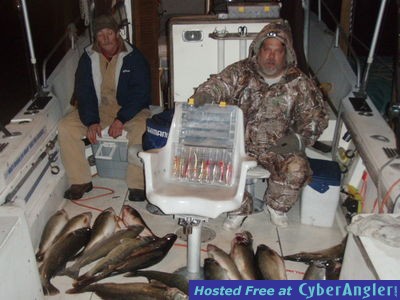 The dangers at night are multi-fold increased, multiplies many unforeseen dangers and is not for the faint of heart. Most generally you will not have any help out there at night. By all means, you must be much more responsible than you think you are normally.
There are many unique and unforeseen dangers to the boater and fisherman at night, and not for the faint of heart. Most generally you will not have any help out there at night. By all means, you must be much more responsible than you think you are normally.
There are many basics necessary to become successful at trolling in itself, and safe boating at night.
Many people get disorientated at dark on the water and do not know how to get home. No, your electronics are not to be solely relied on, they may go out. I will repeat this many times, YOU MUST ASK YOURSELF constantly: "Where am I?"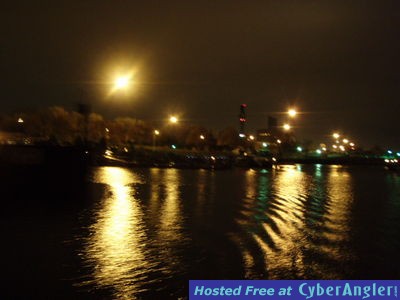 In the spring and fall when the water temperatures are in the 40 and 50 degree mark, hypothermia can and will set in very fast.
So you think you can handle the conditions and dark cold of the Nite Bite?
Let's have a look at it:
Every night is different, and yes, every night holds a surprise in the dark!
Before even thinking about going, you need a check list, completely rig a safe-size boat and specifically organize your vessel properly and systematically.
You must take into account wave conditions in relation to your vessel, incoming weather and be prepared for any night problems that can arise when Mr. Murphy shows up. The majority of the time you cannot see what the lake is about to do or what rouge wave is coming from far away towards you.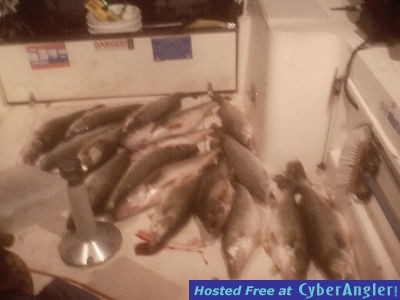 Because the walleyes are in so close during the spring and fall seasons, most of the time you can catch them right against the shoreline, break walls and whatever structure you have available. Keep in mind that the heave of the Great Lake and the unstoppable wind will crab (push) you into the break walls!
Do not be under powered with a kicker for a trolling motor that you will not be able to make headway into the wind.Everything must have its proper place and be kept there. Lines, rods, lures, nets, coolers, safety gear, emergency equipment, etc. Nothing can be loose or laying around on the deck. You must be prepared to act instantly and timely always, but when a fish gets on and changes your game plan it can get very hectic.
Leave the dog at home. You must be familiar with and have local knowledge of the area you are boating. You must have good batteries. More than one! If you have a weak battery it will die. If you snag yourself with a treble it will be deep with possible multiple punctures. This is no place for buffoons, stumble bunnies or the semi skilled weekend angler. Leave the rookies at home on your maiden voyage. Know all your limitations, your passengers, limitations and the limitations of your vessel and equipment. Your lives depend on it.
Here's just a few things:
1. You must know the Colregs. You must have a look out at all times.
2. You must have all required safety equipment.
3. Life Jackets should be worn.
4. You need to know you are charging.
5. You must have all working navigational lights.
6. Leave the day gear at home.
7. Hand and deck lights must be available.
8. A chart plotter is a big bonus for working contour breaks and navigation.
9. A good fish finder is a must.
10. A good VHF radio is a must.
11. A compass is a must.
12. A set of drift socks is a must.
13. Proper rod holders.
14. A hardtop or bimini and side curtains will help extremely.
15. Extra fuel filters and other motor items.
16. You must have a working knowledge for running in line boards.
17. You must know boat maneuverability with the boards.
18. Take more than one net.
19. Have plenty of fuel.
20. You must know where you are at all times.
You must know where you are at all times. Since you'll be fishing at night, many extra safety concerns must be in place. If you're fishing a location for the first time, it is wise to be on the water during day light hours and familiarize yourself with the area, light aids and landmarks. Contact local bait shops, get local knowledge, the up to date information, the advice is priceless. Did I mention you can lose all visibility?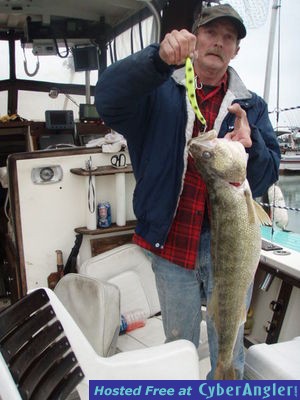 I highly recommend, if you have not boated at night, to take a charter or go out with a known experienced crew to gain the experience and confidence that is demanded from the "Dark of the Night". The night bite can be one of your most memorable trips ever. Do your homework, don't go when the weather sucks, don't skimp on any equipment, be respectful of others and it's the most fun you will ever have.
You can read more on Extreme Nite Fishing, that is a full how-to tutorial with a walleye derby to compete in all summer for 2010, list of additional dangers, proper rigging, tackle, methods, pics and much more at:
http://www.fomsportfishing.com/Nitebite.php
I hope you enjoyed this article.
Contact Information:
Captain Van Burnett
Fishers of Men Lake Erie Charters
http://www.FOMsportfishing.com