April 11, 2008 -Miami, FL: Hook & Tackle Outfitters, Americas largest sport fishing apparel clothing company, hosted a fishing day with five Miami Dolphin NFL players who all share passion for fishing and the outdoors. Stan Rudman, owner of Hook & Tackle is a co-chairman of the 12th annual Miami Dolphins Fishing Tournament. On May 30, 2008 is the Hook & Tackle Captain's party followed by a full day of fishing and awards ceremony on Saturday, May 31, 2008 where you can meet celebrities, coaches and players at the Miami Beach Marina. All money raised benefits the Miami Dolphins Foundations, which distributes funds to many local charities, such as, Cystic Fibrosis, Habitat for Humanity, UM Sylvester Cancer Research and much more.
The winners of the tournament attend an away game. They fly on the private team charter, stay at the team hotel, ride on the team bus, plus VIP pre-game field passes and excellent seats. "Believe it or not, I won last year and we went to the December New England game and this trip was by far the trip of my lifetime and the ultimate NFL experience" says Stan Rudman.
Quarterback John Beck, Kicker Jay Feely, Guard Justin Smiley, Running back Ronnie Brown and Linebacker Channing Crowder got in some practice for the Big Fishing Day! "It was a perfect Friday afternoon with calm seas in Ft Lauderdale inlet. Though we had no bites, we still enjoyed the day and have a better understanding of being patient" says Stan Rudman.
At the end of April, the tournament will host the Publix Kids Fishing Clinic at Bass Pro Shops in South Florida. A group of underprivileged children will spend a day and fish with their favorite Miami Dolphins player. Last year the tournament brought in over $275,000.00.
The MDFT is also raffling off 2 tickets to the Super bowl in Tampa in 2009, and includes a 4 night stay at a hotel. Cost of the ticket is $100.00 and the maximum amount to be sold is 500. If you would like to purchase a ticket, get more information on the tournament or would like a sponsor package, please feel free to contact Stan at
srudman@sportailor.com
.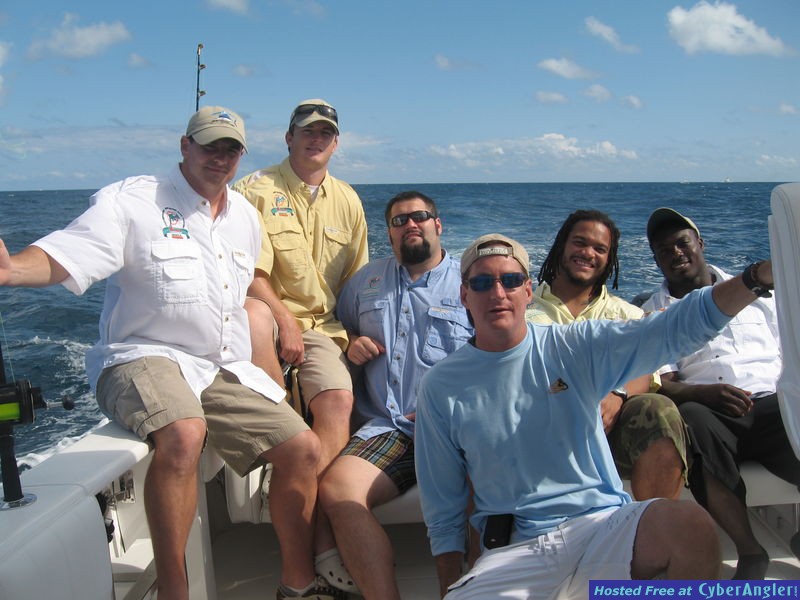 Stan Rudman, Jay Feely, John Beck, Justin Smiley, Channing Crowder and Ronnie Brown.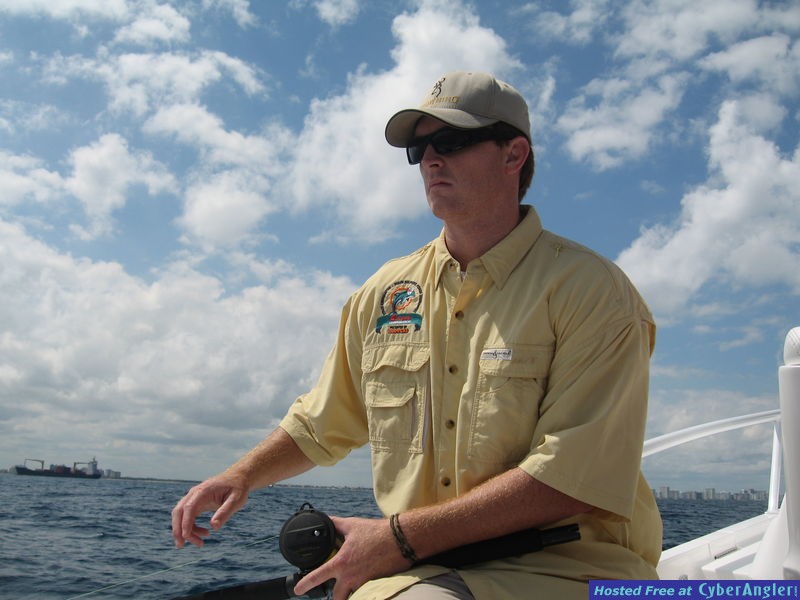 Miami Dolphins QB John Beck