Hook & Tackle® Sponsors the
World Sailfish Championship 2009
April 21, 2009- Miami, FL: The World Sailfish Championship was a complete success. From April 14-18, 2009 in Key West, Fl. Hook & Tackle signed a 3-year deal with the World Sailfish Championship in Key West as official apparel sponsor. Stan Rudman, owner of Hook & Tackle was pleased to see the economic boom, the city of Key West received that week.
The tournament is a 5 day event with over 85 boats registered. Close to $!,000,000 was paid out to the top three boats. With 597 sailfish releases in 3 fishing days. In the last 7 years, the tournament has raised nearly two million dollars for charity. Stan Rudman, a co-chairman of the Miami Dolphins Fishing Tournament, works very closely with charitable tournaments. It is all part of the Hook & Tackle "Giving Back" program.
Coach Don Shula was present to receive a check for his foundation to raise money to find a cure for Breast Cancer. Wade Boggs was the MC for the event. For more information on Hook & Tackle sponsored fishing tournaments, please visit
www.HookandTackle.com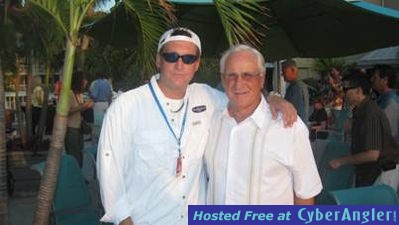 Coach Don Shula and Stan Rudman