Hook & Tackle Captains Party at FinsWeekend
Signature fund-raising event benefits the Miami Dolphins Foundation
MIAMI – February 27, 2012 – On Friday May 18, Hook & Tackle Outfitters will host its largest annual event, The Miami Dolphins Foundation FinsWeekend Hook & Tackle Captains Party. Featuring current players, alumni, coaches and cheerleaders. The three-day extravaganza (May 17-19, 2012) will feature an exciting weekend of golf, fishing and celebrities. All proceeds from FinsWeekend will benefit the Miami Dolphins Foundation.
Hook & Tackle, Americas finest authentic marine/fishing inspired apparel companies has been involved for 15 years and has helped raise millions of dollars for the foundation which 100% of the proceeds go to benefit charities including, Boys and Girls Club, United Way, CCA and many more.
Stan Rudman, owner of Hook & Tackle and tournament co-chairman has been involved since the beginning. "It is the Biggest party of the year, Live and enjoy all what South Beach has to offer, great food, music, hang out and meet your favorite NFL player, celebrities and much more. This is all for a great cause and I personally see the money raised go to work for those charities that benefit. I am honored to be a part of an organization that reaches out to its community and gives back to those in need. Just to see the faces and reactions of the recipients makes it all worth it" says Stan Rudman.
The festivities will begin on Thursday, May 17, with the Celebrity Draw Party at Turnberry Isle. The party will include *beep* hors d'oeuvres and interactive games such as putting, chipping, pitch shot and sand shot for unique prizes. On Friday, May 18, Dolphins players and alumni hit the green at Turnberry Isle's award-winning golf course in Aventura for the FinsWeekend Golf Tournament. Players will tee-off with a shotgun start followed by a luncheon to announce the winners. Later that evening, the popular Hook & Tackle Captain's Party will take place at the Miami Beach Marina, which will feature a silent auction and entertainment.
The following morning, on Saturday, May 19, amateur and professional anglers will meet at the Miami Beach Marina for the Miami Dolphins Foundation Fishing Tournament. Participants will enjoy a day of offshore fishing accompanied by Dolphins players and alumni. In the afternoon, all fishing participants will get together for the "Hooters" Weigh-in". The first place finisher will receive a flight on the team charter to a Dolphins road game. That evening, attendees will gather for an awards ceremony to find out who walked away with the biggest catch. The winners will receive a once in a lifetime chance to ride the team charter to an away game, ride the team bus and stay at the team hotel.
For more information about the weekend, please call the Community Relations department at (305) 943-7200 and please visit
http://www.hookandtackle.com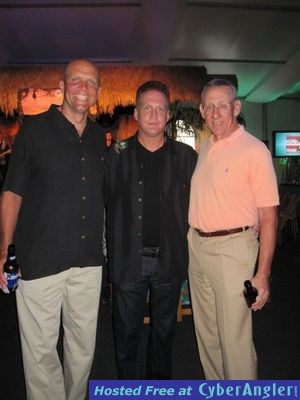 Mike Dee, CEO of the Miami Dolphins, Stan Rudman, Co-Chairman of FinsWeekend and Stephen Ross, Team Owner