Lobster mini-season is in its first of 2 days. I hope everyone has a fruitful pick of these bugs. I sincerely hope, that everyone who braves the hoards of boaters and marina mayhem, has a safe and uneventful 2 days. Prior to the mini-season opening, scouting reports of less than average numbers of bugs were being reported. I'm writing this report only 12 hours into the first day and reports are coming in from divers and bully netter's of complete limits for most all of those that went out.
On the fishing scene, this is the time of year that the calm water boater loves but the hard core fisherman hate. We are entering the summer doldrums. During this time of year most anglers are searching for their favorite quarry, the Dolphin. Hot, humid, daytime temperatures, with warm, flat calm seas, do not usually make for a productive outing. The calm seas of August and September, coupled with the cooler temps of the night, make a trip for Swordfish on the "Darkside" a more enjoyable idea to me.
Swordfish are returning to our area now, from their spawn in the Caribbean and, once again, more anglers are reporting catches. Although the bites per trip ratio is not quite up to snuff yet, these anglers are not experiencing the uneventful nights of the past few months. Sword fishing should only get better as the weeks and months progress.
On the daytime scene, I have read various reports of quality Dolphin fishing! Really???? I unfortunately can't agree with this. Maybe it is that their idea of quality is much different than mine. Most of us to the north of Islamorada are not seeing this quality success, if truthful. Our area is the funnel of the Florida Straits where the water pushes through at a rapid pace, often passing bait and fish through our area just as quickly. The schooled fish that we find can be astronomical in numbers but you must cull through them to find legal 20" fish. Quality fishing? Maybe in sheer numbers once a school is located!
Thankfully the wreck fishing is still fairly active through most of the day. On my last outing we met Tom and his friends for a ¾ day trip. We had a hard time finding the better live baits and had to settle for large Pinfish. Arriving offshore we trolled the edge to find some Bonito in case we needed some strip baits. This worked out fine as we caught 3 of them, in short order, and then worked our way out looking for birds, floaters and weeds. We passed by some sparsely scattered weeds with no action and finally found a 4X4 floating in 1000 feet of water with a small, lone Tripletail on it. On the initial pass we scored a 6# Dolphin. It came to the boat alone and repeated passes proved that to be the case. We made about a dozen passes with a full spread including a Wahoo rig down 40 feet. In the course of that hour we hoped that other fish would find and move in on this board, long enough for us to pick off a few. We circled wide of the board, venturing far off from the floater, but returning several more times. The ocean appeared more like a lifeless desert. A few more attempts on this piece of debris and we moved on. This game of hide and seek seemed like it would last all day so we opted to move into the wrecks and see if we could wrestle some fish out of the steel.
The first wreck we hit was dead. I marked very few fish on the bottom machine and we had only limited few bites. Only doing a ¾ day trip, I didn't want to waste valuable time on this inactive area so we stowed the gear for a long run to another area. Arriving there, the bottom machine showed more fish on the first pass and we got bit, but not hooked up, on a strip bait. These fish were reluctant to eat the Pinfish, which boggled me, as they are usually good baits on the wrecks. On each successive drift the fish began to wake up and get active. We had good success on the Bonito strips, speed jigs and the only Hardtail that we had. The day ended when on the last drift we noticed a large wooden box floating several hundred yards from our starting drift point. We decided against the final drift of the day to investigate the box instead. It was loaded up with "micro" Dolphin. A huge school of sub-legal fish. We tried everything to get them to play with us and couldn't get them to eat anything. We dropped jigs and live bait well beneath them in hopes of a larger fish or Wahoo lurking in the shadow, but nothing was to come of any of it!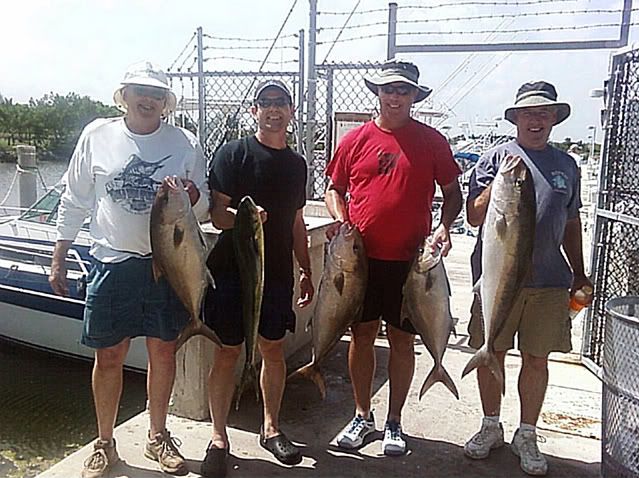 The days tally, except for that first lonely Dolphin and 3 Bonito for bait, was all scored on the wrecks. There were many bites, many lost speed jigs and hooks, and 6 nice sized Almaco Jacks, 4 Barracuda, and only 1 Amberjack in the mix! That is the beauty of South Florida fishing… if one type of fishing isn't producing, there is usually an alternative!
Capt. Jim
The BEAST
305-233-9996
beastcharters@aol.com
http://www.beastcharters.com