Tropical Storm Hanna… Hurricane Ike… Good grief, give us a break here in South Florida! We have an uncontrollable NEED to go fishing. The weather has definitely put a damper on our ocean outings. We have had very few comfortable fishing days in the last several weeks. With several weather pending Cubera trips on the books, and the window of opportunity for Cubera Snapper closing, I have been glued to the computer and TV looking for favorable updates.
We had trips scheduled but Ike was breathing down our neck. With hurricane preps to take care of, I called the people booked for Saturday and Sunday and we all agreed to bag the trips. However, on Saturday morning I was awakened by a phone call from George, telling me to check the weather and call him back. The weather window for that night showed E winds at 5-10 knots and seas 2' or less, so I called Devon to make sure he could mate that night. He said "Let's do it!" so I called George back and we set up to meet at 3PM.
George, Santi, Devon, and I arrived at the dock within minutes of each other, exchanged introductions, and prepared for the evenings outing. We unleashed The BEAST and were off. Hopes were high, and George was very excited and vocal about this night. I throttled up and we were off. As we left the Bay and broke out onto the reefs we were pleased to see flat seas and light winds. We pulled up and let Devon get in the water to dive up some Cubera candy. Apparently the rough seas and weather systems had pushed the Lobster somewhere else because he was in the water for an hour and a half and only caught 5. Oh Boy! Not Good! We pow-wow'd for a few minutes and decided to go get some Yellowtail. We ran to our normal spot and anchored. The current was ripping and we only got a few sub legal 'Tails and tossed them back. I made a move to another spot where we managed to get about 6-8 decent fish. George couldn't contain his excitement any longer and wanted to go with what we had. I was skeptical of the bait situation.
Darkness upon us, we headed out for the big "Snappa's". I located several small, scattered groups of them but nothing like they were. Now I'm thinking, "Really not good!". We set up a drift to intercept a group of these fish and Devon dropped 2 bugs. George brought along his Penn 80 standup outfit and harness. His bait hit the bottom and Santi's bait was a second or two behind him. George's eyes lit up as a Cubera engulfed his bug 3 seconds later and it was Game On, Boys! About 5 seconds later, Santi;s rod bends over. Got a double going!!! Not for long as Santi pulls the hook on his fish. George is in amazement. He's buckled in, the rod is bent over and he just can't believe the power of these fish. He worked the fish to the boat and Devon flopped a nice 29# Cube onto the deck.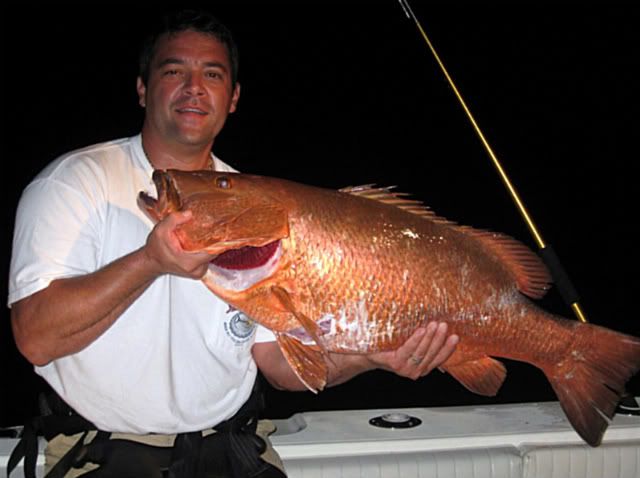 We set up for our next drift and once again George got a bug on his line but Santi opted to conserve and use a bait fish. In less than a minute, George is hooked up again but it was short lived. This fish was a monster, taking 30#'s of drag. Unstoppable! In less than a minute this fish was gone. All the terminal tackle was intact except for 5' of leader and the hooks. The remaining leader told the story. This big fish had rocked him. Some of these fish are big and some are dumb but never will they be both. In their world, it's hard to get big, if you are dumb!
Needless to say we made another drift through these fish and once again, George had bug bait and Santi got the fish bait. I'm not sure why that kept happening? Once again, a decent fish shows its taste for Lobster. This time George works the fish with the Penn 80 drag hammered down to full. Full drag with a standup harness and he stopped that fish cold this time. He worked the fish to the surface and a respectable 36# fish goes on ice.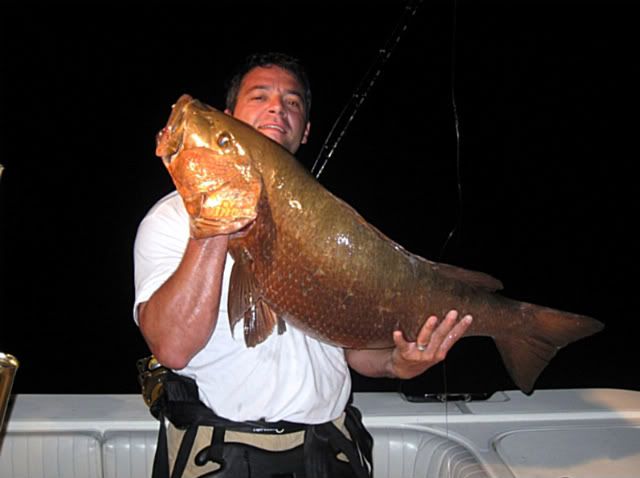 As we make the run back to my drift start point, I swung wide to keep from continuously running over the top of these fish. As I am swinging through the deeper water the bottom machine lights up like a Christmas tree. Holy ----! Everyone stared at the depth finder with gaping eyes! "Let's work this school." I told them. We made 3 drifts and no takers. Hmmm. It was pretty obvious that feeding was not on their minds.
I went back to our feeding fish and interjected that Santi should get the last bug for bait. 2 drifts and Santi's bug is untouched. I told Santi that we've never had a bug make it through 3 drifts. Bada bing! The 3rd drift was a charm. Santi was hooked up, but once again, not for long. George was baited up with the largest bait fish in the well and soon was hooked up to another monster fish. OMG! His drag was hammered down to full and this fish managed to rock him too. These fish had to be larger than our biggest 50# fish this year. You just can't translate into words, the power of these fish!
The bites were less often now, but they continued to feed. The fish were taking the baits with less vigor and many baits were surfacing, crushed or mangled. Then suddenly the bite turned off. Perfect timing as we only had 1 live bait left and it was time to pack it in. The swells were beginning to roll in. It appeared we timed this trip perfectly, taking advantage of this brief lull. The action was fast and furious for the first 90 minutes, then tapered off rapidly. The tally for the night was 2 Cubera of 29 and 36 pounds, out of 9 bites. George and Santi were spent, but enthusiastically said that they want to go again this weekend if the weather is good, and I have an opening. Not a problem!
Fishing for BIG fish must be akin to smoking crack… try it once and your hooked!
Capt. Jim
The BEAST
305-233-9996
beastcharters@aol.com
www.beastcharters.com