Saturday June 6th, 2009
There's been a really hot bottom bite off Key Largo this past couple of weeks. On Saturday, I headed out for a short morning trip with Jorge P., his dad, Ruben and my godson Alex. Seas were a bit bumpy and sloppy early morning (atleast for my 23'er they were) but we slugged our way out the fishing grounds and dropped the hook in 125' at about 7:30am. It wasn't long until fish started hitting the deck and the bottom bite was officially "on". We had a few dolphin swim close to the boat and picked a small one off before they moved on. We also had a couple of run-off on the flat lines but missed both fish. All was good until Jorge P. embedded a treble hook into his thumb and it was deep. All of a sudden everyone on the wanted to play a role in getting the hook out. Ruben suggested pushing it all the way through but Jorge P. said "NO F'N WAY". Jorge's dad wanted to cut a slit in the thumb to get past the barb but again Jorge P. wasn't going to have any of that without some type of anesthesia. I suggested putting a piece of line around it and yanking that *beep* out so wee gave that a shot. I made the loop, slid it around the bend on the hook and help the thumb while Ruben was in charge of the "yank", LOL. 1-2-3, yank and…. nothing, the hook is still in and Jorge has a look in his eyes like he wants to kill me. It was kind of funny, actually, lol. Anyways, we pulled the anchor and headed in to numb this thing. Once we got back to the dock, a friend took a look at it… put a vise grip at the bend in the hook, and plucked it out in a milli-second. No pain at all according to Jorge P.
All in all it was a fun day on the water, the fish cooperated, Jorge P's thumb was back in order and the fish fry rocked!
Here are a couple of pics.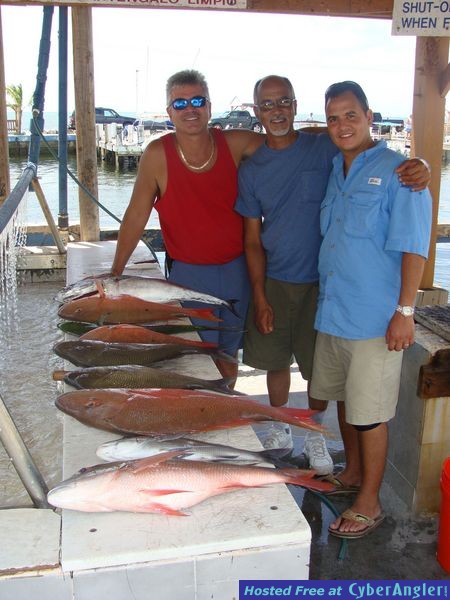 Tight lines all.
Jorge