Well, this weekend I had the privilege of having my good friend Carlos, (aka "chicharro" on the Florida Sportsman Fishing Form) come down and fish with me. Carlos met me down at the marina a 5.45am and we were ready to go with the exception of ice. Our ice machine stopped working at some point Friday night after tossing two trays and we were forced to wait at the dock until the tender showed up which wasn't until 7am. Anyhow, we loaded up with ice and headed towards the reef in search of bottom dwellers. We arrived at the first spot in 135' and I was encouraged as the boat spun around after the anchor connected with the bottom meaning there was good current. Unfortunately, someone forgot to tell the fish I was coming because fishing was very slow. Our baits barely got touched and after a few drops we moved to another spot that produced a bunch of short muttons. We must have caught 5 or 6 that were just short of 16". It started getting late in the morning and I was starting to get worried that Carlos might have to stop by the fish market on his way home in order to prove to wifey he'd gone fishing, lol.
At this point we only had one yellowtail in the boat and only about an hour of fishing left so seeing as how the deeper water wasn't getting it done, I decided to try a grouper spot in shallower water. Soon after getting there we hooked into a big mangrove and the skunk was finally off. Then another mogan grover hit the deck and things looked much better but this was the grouper spot and I had a good feeling we were going to get one. Carlos was freaking out over the sized baits I was using (1 lb chunk of cuda / half a speedo / half a blue runner) but I kept telling him big fish like big baits

. As it turned out, Mr. Black showed up literally 5 minutes before quitting time.
I didn't get any pictures of the grovers but they were slammers. I think I'm going to try this spot next week at night with heavy chum and see if I can raise some of these monster grovers on light tackle.
Here's Carlos and the black.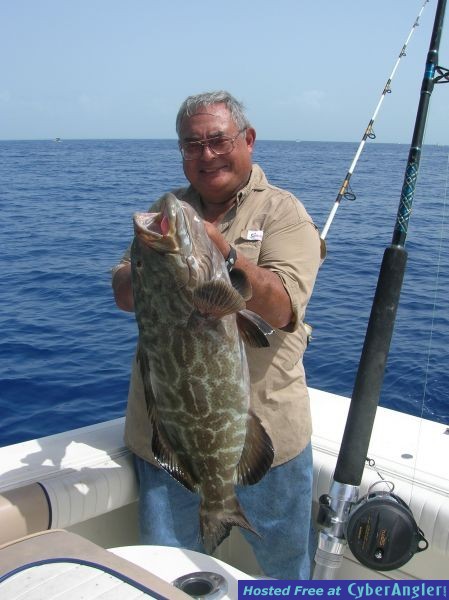 The fishing might have been slow at first but the black and big grovers made the day in the end. Thanks for coming down Carlos.
'Till next week… tight lines!