Most of our family got together for Thanksgiving dinner on Thursday evening and the main topic of conversation was, of course, fishing! Charlie, Missy, and the boys were absent as well as Rita, Scott, and Matthew, because they had to do the other half of their extended families. I had talked to Charlie on Wednesday and he had expressed to me that he would love to do another offshore trip. You see… he is a flats/backcountry type guy. Amy called me on Friday morning and told me that it was a go for Saturday if I was ready. Let's go!
Saturday morning rolled around and Charlie had duty at the fire house until 7 am so we all met at the dock at 8. Uncle AL, Amy, Devon, me and then Charlie rolled in about 7:45. Everyone was feeling happy and relaxed. The air was crisp from the passing cold front and the winds were calm. Devon realizes he has forgotten his drink cooler. We finished loading the boat while he buzzed home. When he returned we shoved off at what seemed the pace of a 3 toed Sloth. This was a "fun trip" so we are always laid back and leisurely, with no worries.
Our usual stops for Hardtails proved fruitless. This was expected since the temperature had dropped significantly. OK! Let's do the Ballyhoo patches and hope things go better there. We blasted off and arrived at the worm hole in 15 or so minutes. That was a brisk run! The tide was going slack and the winds were barely pushing the chum out. The worms were hungry, at first! It took us a little while to collect enough hookers and I threw the big ol' Calusa a few times to fill the wells. Now, we had plenty of bait for the day. Off we go for the wild blue yonder.
We pulled up to hear the radio buzzing with Captains asking each other if anyone, anyone at all, were doing anything. There was virtually no current. Ruh Roh Scooby! That was how our morning went as well. We fed the Trigger fish like we were at the petting zoo, and that's about all the action we were having. We had the normal 4 line spread on top and Charlie had his "Trout" rod (grins) with him so we put it out on the center rigger, right in the middle of the spread. The downrigger was down looking for Kingfish as well. Nothing. Uncle Al is working the heck out of a speed jig and Devon is working a hair jig/bally combo. Nada! The morning continued into afternoon and we finally had a school of peanut Dolphin come into the spread. One was a Kamikaze and ate the hook. The rest just terrorized the baits and turned their nose up at cut bait too. WOW! The lone fish measured 19 inches. A Monster! We turned it loose to grow up. Another endless time period passed and we managed to catch a Caribbean Spotted Mackerel. These Cudas seem to have my number and we catch at least one on every trip.
Things seemed to slow down even more if you can even imagine that. Charlie was getting bored and whining. He had never caught a Sailfish and was beginning to think that even Devon and the old man couldn't get him his first one. Tired from running calls all night, he laid down for a nap. We moseyed out to a couple of our Mutton areas. Let's see if anything on the bottom wants to play. Trust me when I tell you that the current was so slight that the opposing breeze kept us locked in a 100 yard area as if we were on a sky hook. You could sit right on some structure, mark fish, and still nothing. Zilch. Wait. I take that back. Amy did have a fish on for a few minutes until it cut the leader. Yep, what you're thinking is probably what it was!
Now Charlie is really starting to whine! He's doubting it is going to happen as 3:30 rolls around. We decided to get back after some topside fish. Let's make a run to our favorite area for the witching hour. The 4 o'clock hour comes and Charlie is getting discouraged. Devon tells him that it will happen, just be ready. The sun is sinking low when Devon breaks the idle chatter with a blood curdling cry. SAILFISH! SAILFISH on the flat. I look back and see it give up on that bait and haul freight over to the other flat. Devon tries to feed him when I see another fish on Charlie's rod in the center. The line trips and I yell… center rigger popped off. Amy grabs the rod and hands it to Charlie. OK… REEL!!!!! Get on him, now! The line comes tight and the fish takes off, then turns a 180 right back at the boat on his tail the whole way! I hit the throttles to get Charlie tight again and it is fish on, Buddy! The cameras and camcorder came out of storage. The fish was a gamer, jumping several times as he headed offshore.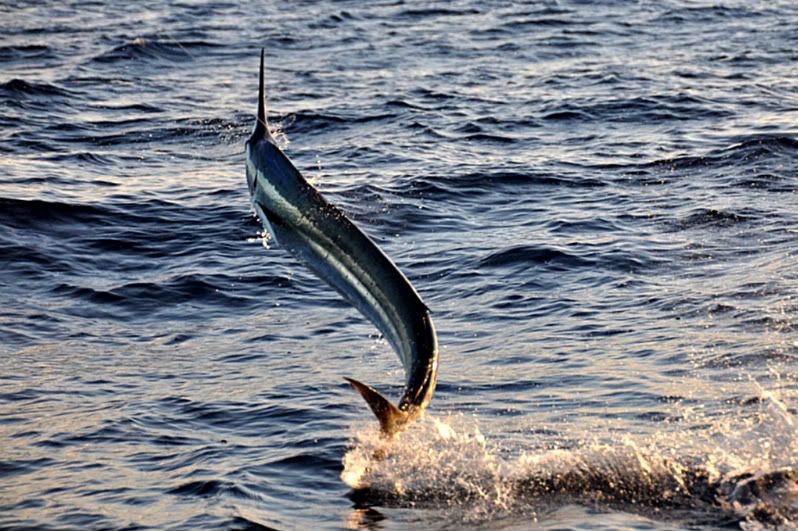 The fish is putting Charlie to the test and putting a hurtin' on that little shallow water rod and Stradic 6000. Charlie is huffing and puffing but determined. This fish is working him deep and then comes up for another quick show.
Now the fish goes down and barn doors Charlie for several minutes as we poke fun at how hard this fish is working him. You're burning daylight Dude! He finally gets the fish up for a tag shot and we get the dart in him. Not done yet!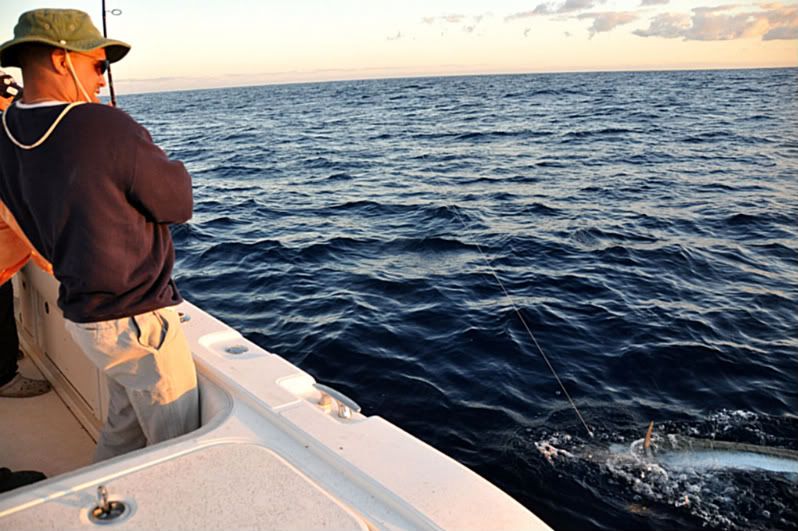 He works Charlie under the boat and then forward off the bow. Staying deep the whole way he manhandles Charlie as Charlie tries to manhandle him. 15 minutes or so and the fish finally comes to the boat for a hook out and release. As Devon gets a grip and the fish is playing possum.
The faint melody of that old nursery rhyme starts playin… POP goes the leader! The fish takes off at cruising speed. I guess he didn't need to be revived! Ya think!
Here's a condensed version of Charlie's Battle Royale on video.
http://www.youtube.com/watch?v=4JbKsdp4sEs
Let's get 'em back in the water and chum out! We put the lines out and sent out the rest of the livies to see if we could get a twilighter.
We noticed a ¼ acre of small baits moving south and the birds were wreaking havoc on them. Sardines. Stand ready, it could happen. Uncle Al is deep jigging and his bait gets fouled. Oh Snap, check this out! This is crazy! Either the fish was trying to mate or it eats fish it's own size.
We called it a day and I pointed the nose of The BEAST toward the barn. Once again we had a memorable "fun day" on the water with good friends and family. It just doesn't get any better than this. Congrats on your first Sailfish, Charlie!
Capt. Jim
The BEAST
305-233-9996
beastcharters@aol.com
http://www.beastcharters.com