On Saturday, I headed back out with my godson Alex and my nieces fiancé, Peter. The plan was to hit some deep ledges again for some bottom dwellers. We launched the boat at 7:30 and as with all my rides out to the fishing ground, I wonder if there going to be good current the whole way out. It was really nice out there on Saturday morning and the ride out was awesome!
We got to the first spot in 125' and dropped the anchor and wow, the current was ripping! It was like a river behind the boat and I was pretty sure the fish would cooperate. And they did. First drops started producing fish and we had a pretty good bite going on throughout the morning. By 10am we had a few muttons, margates and yellowtails in the box and the bite slowed down a bit. All of a sudden, Alex says "look at that mutton!!!!" I briefly check out the rods but there was nothing going on with them and then I saw it... a 12 ½ pound mutton floating on the surface flipping his tail trying to get submerged again. Since the fishing had slowed at this spot and I was already thinking of re-locating, I said bring 'em up and someone go get the anchor quick. Yup, we were going after it, lol. By the time we fired up the engine and pulled the anchor, this fish was about a ¼ mile away in the ripping current but we spotted it, gaffed it and in the box it went  That was a first for me. It just so happens that I knew the guy in the boat that lost this fish as he was fishing the same ledge about ½ mile up-current of me. Should I have given it back???… NOT. lol I had a great time with him on the VHF after that. In case you're wondering, the floating mutton is the third fish from the left.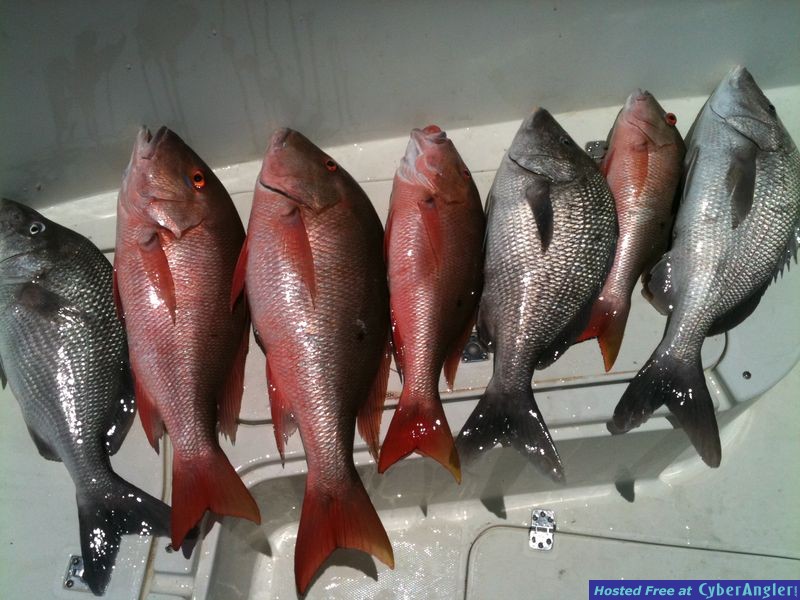 It was a really nice day out there on Saturday and I'm already looking forward to this coming weekend.
Tight lines!