I'm a little behind in my reports so I'm going to double this one up and make it short and sweet.
David Aurbach and his friend Jarrett had fished Cubera's with us before. This time they brought some new blood in Gayle and Gayle Jr. We made bait quickly and headed out. During this trip the Permit were still working good so we also took 10 crab with us.
Our first stop was to hit the Permit. We couldn't get a visual on them so I had to find them with the electronics and drift the baits to them. 1 missed queue and hung on the bottom (????). I guess the angler was feeding his line out a little too liberally. The other 9 crab got eaten but every one of the Permit found some structure to cut them off.
OK… off to try some live baits on top. The seas were too calm, almost like a lake so the action was dead. We worked it hard for a couple hours then decided to head to the "Grunt & Sweat" wreck to put some hurt on these boys. That is just what we did.
We spent a few hours dropping some very large baits down and speed jigging as well. David and his crew got bit by some respectable AJ's.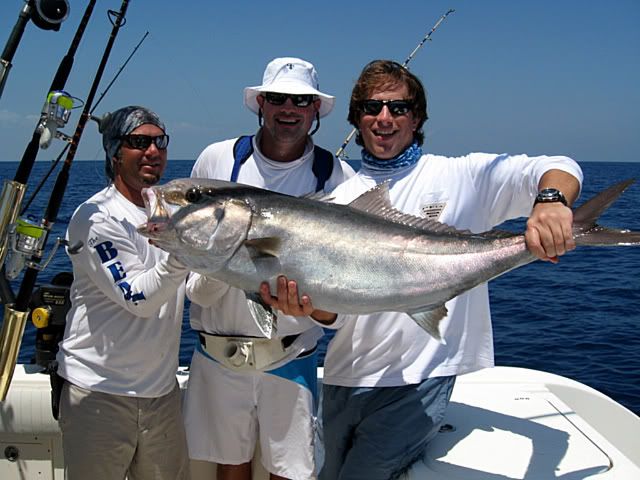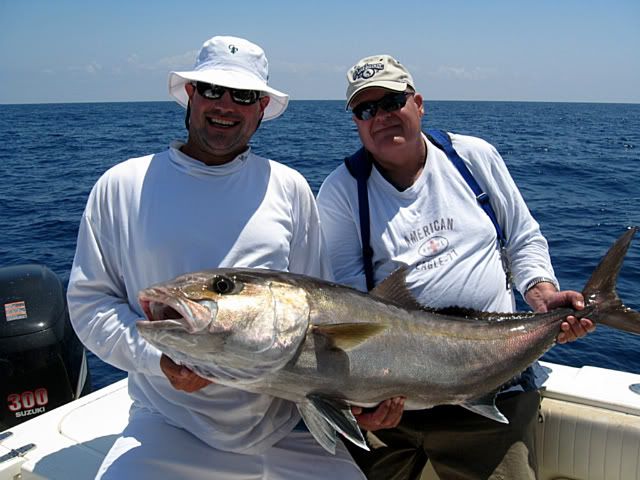 We still had about another hour or so left in the day. Since Devon had brought along some dead crab that he had in his freezer. We decided to give the Permit a try again. Nothing beats a live crab, but those garbage can lids had a hearty appetite earlier and maybe they would still be hungry enough to eat a dead one. We made a few drifts to locate fish and suddenly David came tight on a fish. This fish made a mistake and headed away from the structure so I followed him. When the fish tried to double back I had the boat in position and we put the heat on him. I love it when a plan comes together. Several minutes passed as David and the fish played give and take, but the game was drawing to an end. OMG! Nice fish! We just beat one of the older wiser ones.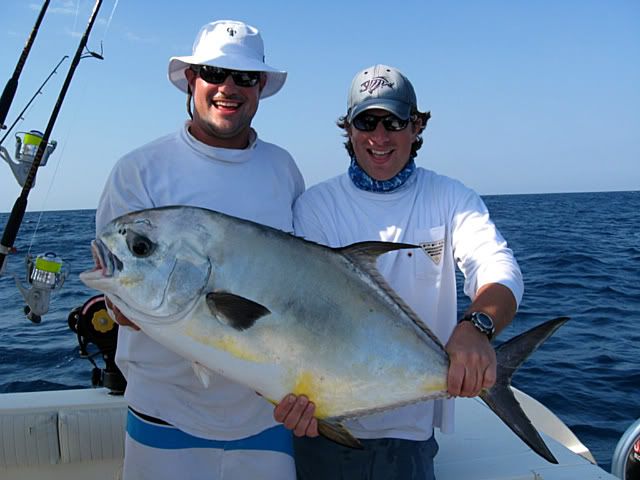 An awesome end to a fun day! I believe they had a good time, once again.
We also had our repeat friend from Gibraltar Spain, Ivan Alman, who brought his son this time. The last time he came to see us he had booked 5 days but this time he had time constraints and only had time for 2 days. Sweet… Let's do this.
We blasted out and caught bait. The water was a bit choppy but not too bad by Beast standards. As we were finishing up catching bait I noticed the boy was getting a bit green around the gills. UH OH!
Ivan had read some of last years Permit reports so this was on his agenda. We gave it a try and they were there but a bit slower to chew. A few drifts and nothing happening. I was manning one rod while Devon did some jigging and Ivan was attempting to man a crab while checking on his son who was getting a lighter shade of pale by the minute. Tap, tap, tap, and my line started moving off. Bam… here ya go Ivan! He was hooked up and I'm not sure who had who for the first several minutes. He worked the fish to the boat and we had a catch.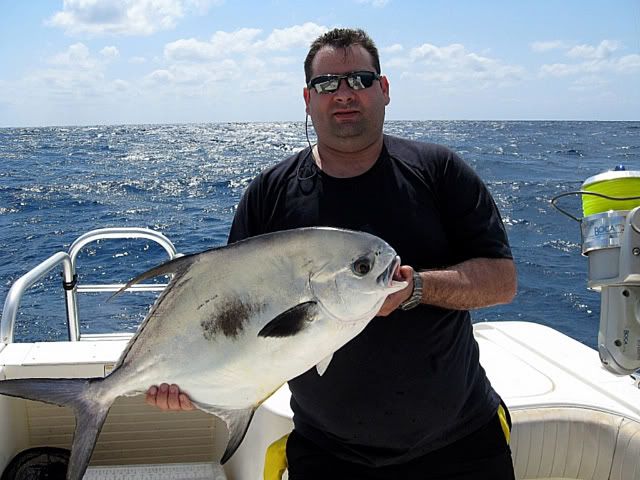 I had to get the boat moving in hopes to revive his son, so we left that area and headed for the House of AJ. Let's get the boy pulling on something. We made a few drops with the speed jig while I set up my drift. I located my drift line and we sent down some baits. Double Bam! Devon grunts as a fish strikes his speed jig and he hands it off to Ivan. Less than 5 seconds later the live bait gets whacked. I begged the boy to just come over and crank it in from the rod holder. He rose from the dead long enough to bring in this good fish. He stood by while his Dad finished off his fish.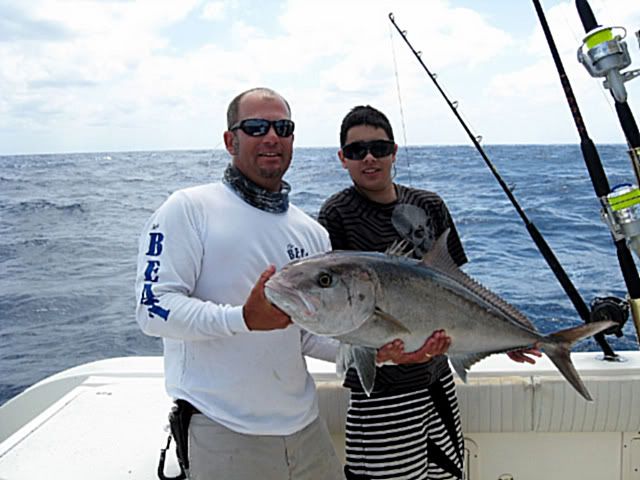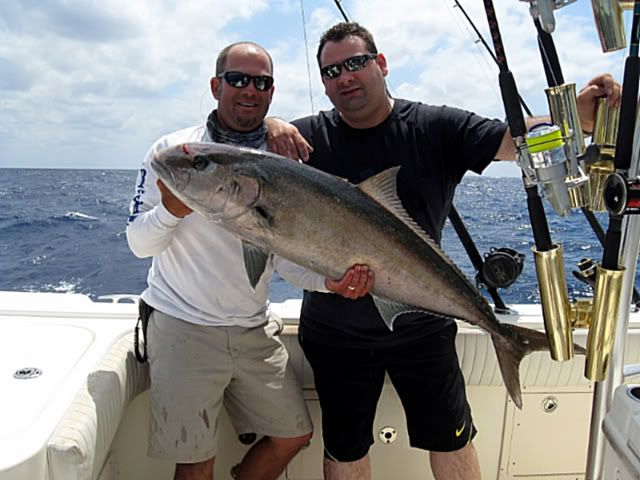 The poor kid gave it his all. Shortly after catching that fish, the extra adrenaline pumping through his body made holding his stomach impossible. UH OH! In record time, Ivan whirls around and lets go of his lunch as well. Some people can't watch another hurl and it turns them sour as well. It doesn't bother Devon or I because we see it quite frequently. After a few sips of water, the father son team give me the word. We're headed home early. As we idled down the home channel we got the second word. Ivan decided that this vacation was for his boy and he didn't want to make him do it again the next day. We told him that we could go outside just long enough to catch a Cuda or 2 and then go shark fishing on the inside if he wanted. Ivan decided against that. He paid me and tipped Devon out, telling us to enjoy our day off! Thanks again to Ivan, that was very generous and refreshingly out of the ordinary.
Stay tuned for the next report from this past weekends 3 day event with our German friends Steffen and Silmara.
Capt. Jim
The BEAST
305-233-9996
beastcharters@aol.com
www.beastcharters.com