The weather has been a bit on the iffy side even though spring is upon us. The fishing has been pretty good and we've been pretty busy. No complaints form us about either.
Shawn met us at the usual departure time and he came solo for his ¾ day. Hey, you can't beat that if you don't feel like sharing time on the rods. We went through the normal introductions and turned The BEAST loose. We made way to one of our Hardtail spots, picked up several baits and then beat it for the Ballyhoo. The Ballyhoo have been tough and the radio has been buzzing on that topic. After spending way more time than I like to, the worms started showing up and we picked away at them. I called the bait search off and hedged my bet that we had enough for the day. We made our way out to the blue water and set up a spread.
I worked in and out and there was only a trickle of current. This is not good. Devon sparked up when he saw some flyers (flying fish) flying across the waters surface, They were being chased by something. I made a slight adjustment and headed off the culprits. Line down and a Dolphin hooked up! Shawn worked the chubby "Lifter" to the boat and we boxed it as another fish took down a flat line bait. Another fat "Lifter" around the same size joined the first. We're on the boards and the skunk is off the boat.
The fishing was as slow as I had expected with the lack of current so we finally bagged the edge and headed out to a deep wreck to give it a go. I was hoping we would catch a few before having problems with the "Guard Dogs" (sharks). The first drop produced a 25 pound Amberjack for Shawn.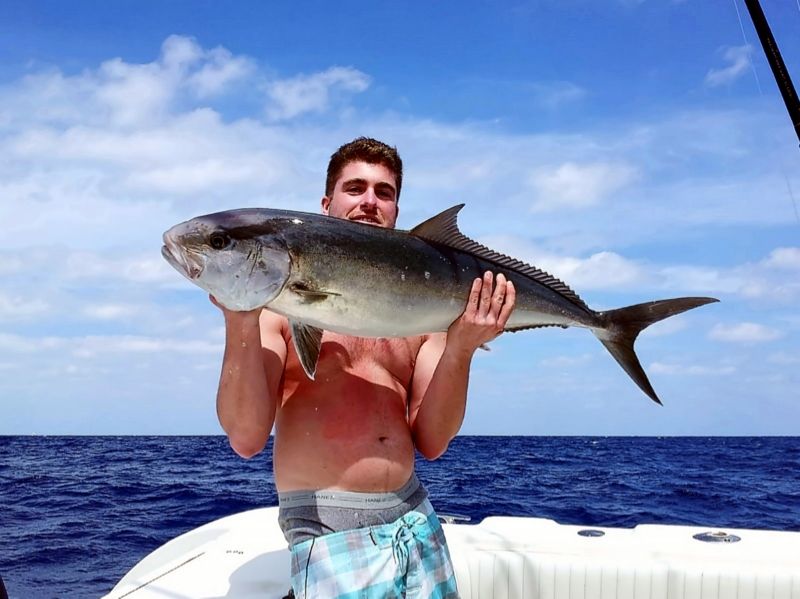 We made another drift and lost a bait. Then on the 3rd drift we hooked up again. This time I knew we didn't have a Jack, instead it was one of those Caribbean Spotted Mackerel. This 'Cuda pushed into the mid 20 pound range.
I made a few more drifts, missing the bite zone completely on one of them, and getting a hook up on the last. Shawn was working the fish when it suddenly gained about 200 pounds. A minute or so later the fish felt like it did a crash course at Jenny Craig weight loss studio. Oh Lord! We woke up the Dogs! Sure enough... His catch turned out to be a large Cuda head. OK! No sense in working this spot only to feed the Guard Dogs.
We headed back in to the edge to see if we could work up some Sailfish, Tuna or Dolphin. We arrived on the edge and put out our usual spread. Minutes turned into an hour and the day was slipping away. No current, no fish, and almost out of time. Devon slowly began tossing the remainder of the baits. Sailfish! A double! The first fish jumped the hook but the second was pinned on good. This fish was acting peculiar and Devon kept saying he thought it was foul hooked because he only jumped once and never came back to the surface. Shawn was nervous because he didn't want to lose this fish, it was his first Sail. 30 minutes... 60 minutes... We've been walking this fish all over the ocean and Shawn was putting out minimal pressure. Finally at the 80 minute mark we had the fish at the surface just off from the boat and indeed, it was hooked through the skin just in front of the dorsal. Shawn gingerly played the fish for another 10 minutes and Devon finally got the leader. Right at the boat as Devon was about to grab the bill the hook popped the piece of skin and both he and Shawn made a mad grab at the bill but neither got a hold on it. We watched as the fish turned and swam off into the deep. It was a bona fide catch, just no picture!
Definitely disheartened about no photo but a Sailfish off his bucket list for sure. We turned The BEAST to the west and made way for the house.
Our next trip was another ¾ day and as the sun came up it brought us Carey and his daughter Chisana. Carey had read my reports on Sailfish and wanted to try and get Chisana her first Sail. We loaded them aboard and headed out. I hit my usual bait spots and thankfully they were willing participants this time. We got our bait in real short order and I blasted out for the edge.
We put our spread out and almost the same as the day before I caught a glimpse of Flyers getting up. This time we just had to wait on the fish to intercept us and Bada Bing, we're on! Chisana took the rod and the fish stayed down. Devon and I knew we had a Tuna type but was it a Blackie or a Bonehead? Chisana worked it to the boat like a hero. You could tell she had fished plenty of times before. It was a decent 12 pound Blackfin and this was her first Tuna.
With the spread back out again, the fish were on their feed. Dolphin, Dolphin, and 6 more Dolphin. All were nice heavy "Lifters" and Carey and Chisana stayed busy for a while.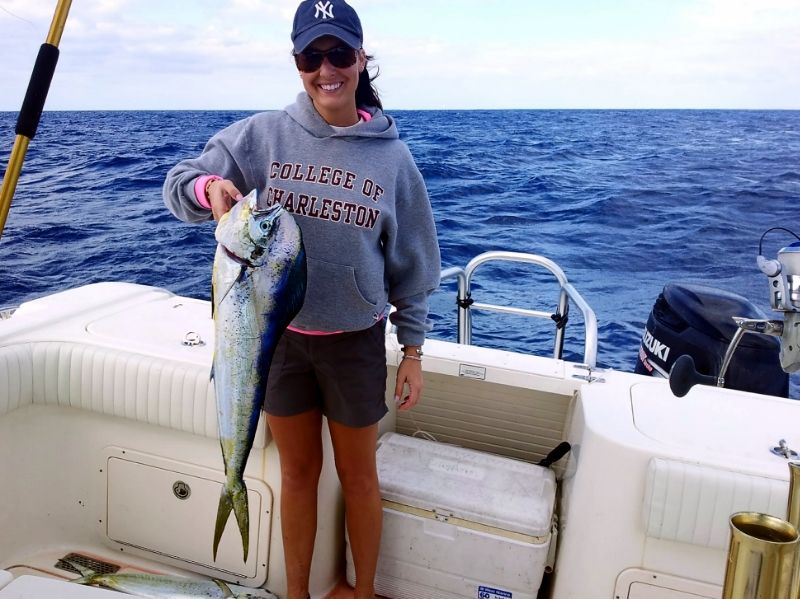 The Dolphin were done passing through and we thought we might have a minute to relax and grab a sandwich when Devon yells "Sailfish on the left rigger!" Chisana was hooked up for a short time and after the 3rd or 4th jump the Sail took his leave. Crapola! Within 15 minutes of putting the spread out again, we had a double hook up. We thought we had a pair of Blackie's but when they got closer we realized we had a Bonito duo. Reset the lines and let's get after them again because time is running out. Devon and I remarked that the down rod has been relatively silent on the last several trips. The words were not long out of our mouths when the clicker screams out! OMG this is a big one. I was almost positive that we had a big shark on our 30# braid rod. This is going to be a tussle for sure but it was a steady pull so we left our surface baits out. 30 minutes passed when I see a Sailfish pounce on the left long bait. Chisana jumped on the Sailfish and she was, for sure, hooked up solid this time. Now what are we going to do. Carey made the decision to either make it or break it on the deep fish so Chisana had a valid shot at her Sail. The leader parted under the pressure and we were focused now on Chisana's Sailfish. She did a fine job and 25 minutes later we had her first Sailfish at the boat and pulled it aboard for a photo op.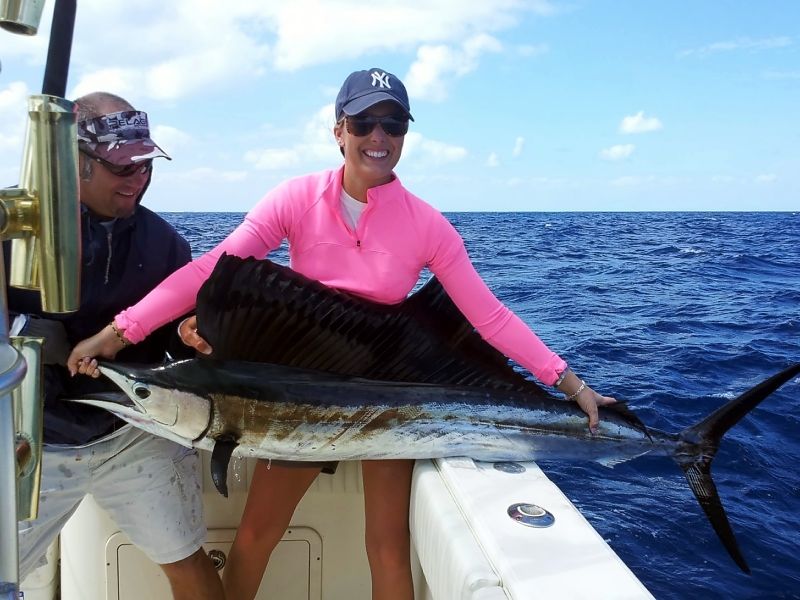 The smile in that picture says it all... Not only was she ecstatic that she had her first Sailfish but that smile is the result that Devon and I strive for on our charters. We called it an afternoon and boogied for the barn.
One of our most frequent charters, Jon, came to visit with his colleagues, Kevin and Richard. We had good fun and caught some decent fish. Since Jon isn't one for pictures, I'll just do a quick synopsis of the day. We got our bait after a long struggle. We went to the blue water and began doing our thing. The day was productive in the morning but slowed down in the afternoon. We ended our day with a grand total of 6 nice "Lifter" Dolphin, 1 Silky Shark, ! Barracuda, and a Bonito. We didn't see a Sailfish or hear of any being caught. We gave it a valiant effort and threw in the towel a little bit early.
Spring time is here and it is one of our favorites times of the year. Ah, who am I kidding? Anytime Devon and I can fish is our favorite time of the year. Anyway... the Dolphin are passing through, the wrecks are alive, and the weather, is looking like S. Florida again. It's time to go, Folks!
Capt. Jim
The BEAST
305-233-9996
beastcharters@aol.com
www.beastcharters.com