On our last outing in May I had a bit of a problem. As I slowly powered on the throttles to come home, something came loose in the starboard engine... zzzzzzzzzzzzzzzzzzzzzzzzzzzzzzzzzzzzzzzzzzzz ... We lost thrust. What the heck? As I walked back toward the stern to check out the problem, the overheat alarm came on. Shut her down! Well it's not the lower unit, we definitely have a driveshaft problem because the water pump isn't turning. Oh Boy! We limped in on the port engine at about 8-10 knots, taking us 2 hours to get back to the slip. Well, that was a crap way to end an enjoyable day with good company.
The BEAST was broken for almost 2 months. She blew a driven gear and driveshaft on the starboard motor. I had trips lined up and my back was against the wall so I called a "certified" Suzuki mechanic, in Miami, to repair it. While they had it in the shop, I wanted them to change the driven gear on the port side also, and all filters, seals, water pumps, etc on both motors. Basically I wanted both engines brought up to as optimum condition as possible. She sat torn apart for almost 3 weeks with little work done until I finally got fed up, having lost all of the scheduled trips. I went to the shop and blew a gasket. They started working on it and gave it back to me 5 days later with a $6300 bill, saying it was complete. I put her back in the water and the starboard motor with the original problem would barely run. The port motor that had no problems before, was now overheating at idle. 2 more weeks of "change this...change that" and nothing was any better. I finally contacted another mechanic who within hours of having the boat, pulled the powerhead again and diagnosed the problem. The original mechanic had one camshaft chain out of time by one tooth. They retimed the camshaft and ordered the gaskets to reinstall the powerhead. While waiting they found the overheat problem on the port motor. When the first mechanic reinstalled the lower unit the water supply tube wasn't aligned properly and crimped the tube in half. Yep... The first shop was "Suzuki certified" all right, more like a bad joke. The new mechanic had me back in service within 7 days but it cost me another pile of money to fix what the first guy screwed up.
Finally in service I made a quick run with Billy Cox to do an ash spreading. He was extremely patient and had postponed his trip week after week, waiting on The BEAST to come back in service. We finally got it done for Billy, having a nice run out to the depths of the gulfstream and releasing his loved ones.
We just went out for a ¾ day with John, Eddie and Nick, from the UK. These Brits had a tremendous time just catching Hardtails for bait. You don't know how many times we've heard that. They had already caught their biggest fish ever. The bait was a bit slow so after we collected about 15, we headed out for the blue water.
My plan was to probably troll a bit to see what we could locate. Unlike others who run around all day looking for debris etc. I learned from an "old salt" about a hundred years ago that, "You aren't fishing without bait in the water." That made perfect sense to me and I follow that philosophy most of the time. Think about how many fish you have run over, while looking for fish? I have caught many nice Dolphin(fish) in wide open blue water. OK! I was thinking we would probably need to get out into 1000-1200' depths to catch some Dolphin(fish). As I was running in that direction, an overwhelming urge came over me to stop and fish here. That same old man taught me to trust my gut feelings, so I powered down and told Devon to set the spread out. We were fishing well short of my initial depths. Bump! We have a peanut Dolphin on. Normally there are several other duplicate fish swimming with smaller fish like this. Not this time! We got the fish aboard and true to August, the fish is about 19 inches. Devon tossed the fish back in to grow up.
Devon throws the spread out there again and in a short time we get another knockdown. Oh, Bruddah! This is a good'un man. Several good jumps and we see that this fish was a real nice August fish. Matter of fact, anything over "schoolie" size is a nice one in August. Nick worked the fish and the fish worked Nick. This is the cow so while Nick worked on the fish, about 10 or 15 minutes, we looked for the bull. There is no bull in sight so we have Nick present the fish boat side. Devon takes the gaff shot and stones the fish. Yes Sir! That's a good fish as it pulls the scale down to the 19 pound mark. We are happy with this fish and all I could think of is what size bull could have been riding shotgun with this cow. I'm glad I trusted my instincts!
We worked the area for a while longer but nothing much was happening so I made way for the Back Breaker wreck. If these guys thought that the Hardtails were fun, wait until they get a load of what's to come. We had some winds and rain coming through now and the drifts were sporadic. After the uncertain weather passed we had good drifts but the current was cranking at almost 4 knots. We broke off the first 2 bites on the first drops. Settling down into a good rhythm, we hooked one after another on almost every drift.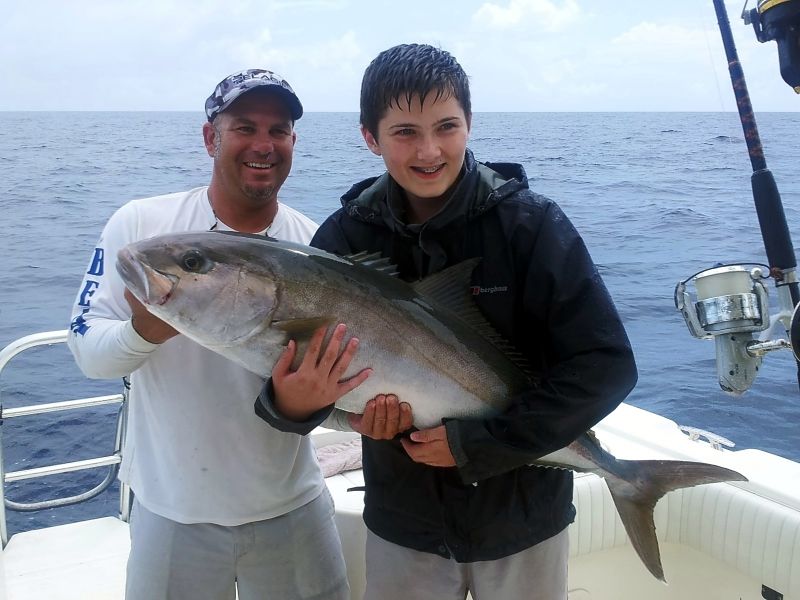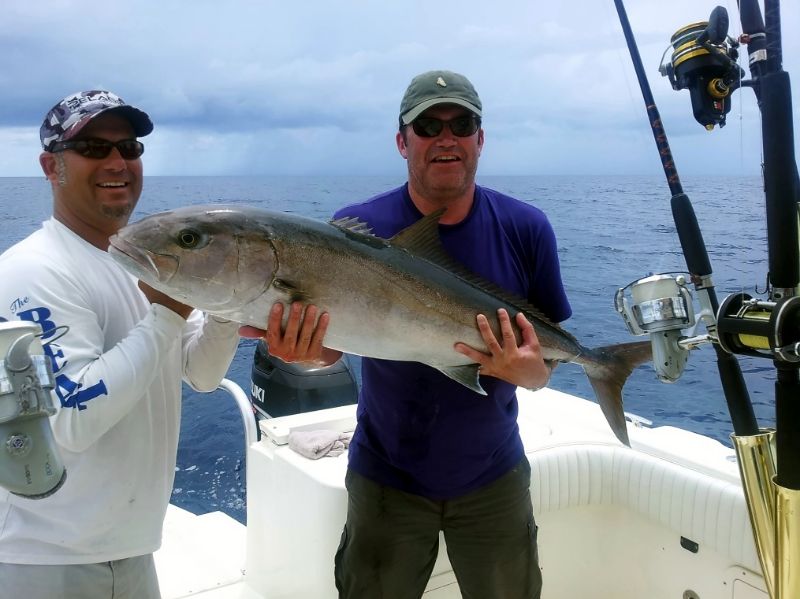 The guys were ready to tap out and it was almost time to call the trip. Everyone was mesmerized by the Barracuda that had mauled a few of their Hardtails at the bait spot, so I suggested that we go catch one. We were running out of time but I figured, what the heck, let's show them the business end on these fish. We hit our favorite wreck where these Caribbean Spotted Mackerel tend to pile up. 3 attempts, 3 hookups, and Eddied catches a nice specimen of about 25 lb. They were in awe of the dental work that these fish carry. We packed up The BEAST and boogied for the barn.
It's that time of year and Devon and I would love to break The BEAST's boat record on Cubera Snapper.
Jorge Marquez's group set the record at 76¼ pounds a few years ago. He continues to return with us every year trying to best that catch. We have our sights set on an 80+ pounder. Catching these largest of the snapper species is a pile of fun. If it is something you may want to do, I know the boat for you to try it on.
Capt. Jim
The BEAST
305-233-9996
beastcharters@aol.com
www.beastcharters.com