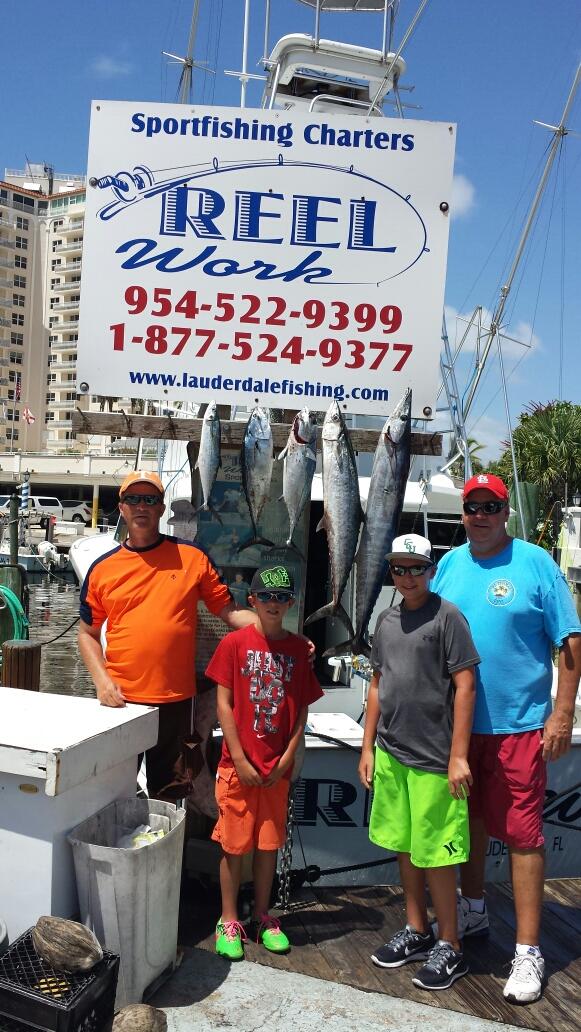 We had a pair of father and sons fishing Fort Lauderdale offshore waters with us yesterday. It was a hot but beautiful mid August morning with calm seas. We started the day as usual catching some bait before heading offshore. The guys wanted to troll so we headed to 300 – 800 feet of water and put out some live baits. The big schools of bonito have been hard to find lately but we did manage to catch one nice sized bonito along with a Spanish mackerel and a nice blackfin tuna. The big excitement for the day started when a large kingfish inhaled one of our baits. The boys were amazed at the speed and power of this big fish. They did a great job fighting the fish and getting it to the boat so my mate could gaff it and get it into the fish box. Then, not to be outdone, an even larger wahoo grabbed a bait and went on a blistering run. Again, the guys were up to the challenge and got the fish to the boat and into the fish box. Time was getting late and everybody was worn out from the battles so we headed back to the dock with some happy fishermen.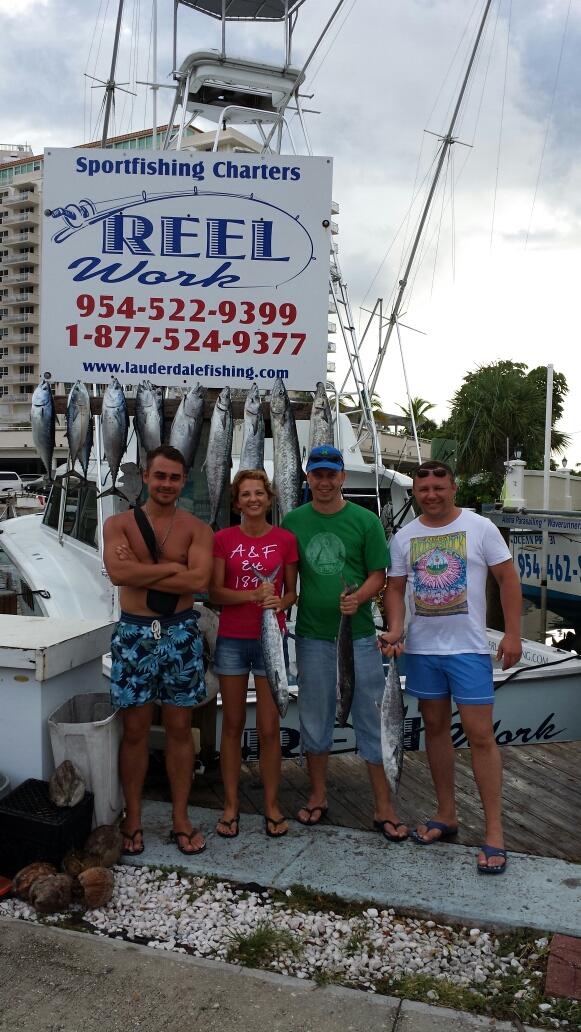 Anglers fishing with me last Friday aboard the Reel Work out of Fort Lauderdale had an exciting days fishing. Our guests were kept busy the entire charter catching bonito and kingfish. We started the day as usual putting some bait in the livewell before heading offshore to troll. The king mackerel and wahoo bite has been good lately so we headed out to the same area that has been producing to try our luck. As soon as the first bait hit the water the fun began and it did not let up until it was time to head back to the dock. We caught more bonito then we have over the last couple of weeks but did not see any wahoo. At the end of the day we had 7 bonito, 7 kingfish and 4 happy customers.
Make memories that will last a lifetime. Go on a Fort Lauderdale Fishing Charter! Fill in the form on the left side of this page or give us a call to set up your Fort Lauderdale fishing charter and create some memories of your own.
Reel Work Sport Fishing Charters
301 Seabreeze Blvd.
Fort Lauderdale, FL 33316
954-522-9399
1-877-524-9377
Email:
lauderdalefishing@gmail.com
Website:
http://lauderdalefishing.com
Fort Lauderdale Fishing Charters