Brandon, Larry, Byron and Prada came to join us. The day they picked was a little on the rough side but we've had quite a few of those days lately. More wind and bigger seas are a less comfortable for riding but definitely better for fishing. The guys arrived at the dock on time and I turned The BEAST out. We idled our way into the Bay and I put the spurs to those 600 ponies. The Beast sprang to life, getting into the hunt like a speckled bird dog!
As we were running to the worm holes we couldn't help but notice how torn up the reef water was. It looked like split pea soup and I must admit that I was a bit concerned. I throttled down at the worm bed and Devon put the chum bag out. You couldn't even see the small Yellowtail or Chubs unless they were within a few feet of the surface. Well, no worries Mate! Within minutes the worms arrived and in massive numbers. They were feeding like piranhas that hadn't eaten in weeks. We quickly caught plenty of hookers and I pulled out the Calusa net. One toss of that net and it took both Devon and I to get the catch over the rails. Within 30 minutes we had more than enough bait for the day, or so I thought. We packed up the bait gear and powered up for the short run to the blue water edge.
Arriving on the edge at 8:41, Devon deployed his typical windy day spread of 3 surface baits and 1 down bait. About 8:45 and a couple of frigate birds were hovering nearby. They suddenly broke toward the spread. PaPow… KaBoom! We have 2 lines bent over and the guys are into some decent little "gaffer" dolphin. The other lines get taken by smaller chubby mahi, while we were working the larger fish. We managed to boat the 2 "gaffers" and 1 "schoolie" out of that fire drill.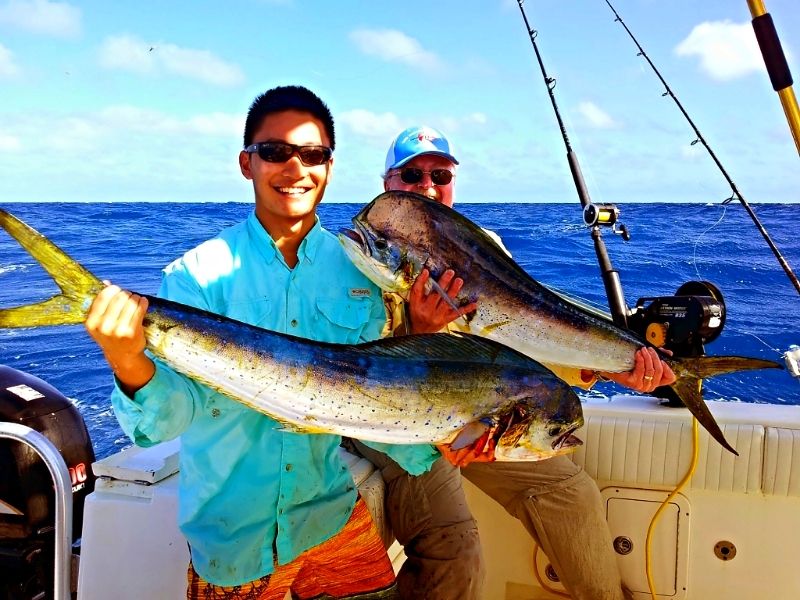 That is how the day started and it continue in that fashion for almost the entire day. We had bite after bite, going no longer than 15 minutes for most of the morning, We caught more dolphin, a "snake" Kingfish, got interrupted by 3 Silky sharks, jumped off a small sailfish, and caught a respectable 16# blackfin tuna which is always welcome in our fish box.
The morning continued into afternoon and the bite slowed down… not really! Slowing down on this day simply meant that we went from a bite every 15 minutes to one every 30 minutes instead. The seas began to pick up pretty good in the late afternoon and the dolphin bite did slow down a bit. Instead of dolphin, some cero mackerel, bonito, and 3 more sailfish picked up the slack. I'm not sure why, but for some reason the guys were having a bit of trouble staying connected to the sails. That was true until we hit the witching hour, and chummed out the remaining baits. Suddenly another sail pops up in the buffet line! OK, feed him, feed him… Now stick 'em! Fish on, Brah! We did it exactly as we were supposed to and this one is on lockdown. The fight went on for some time, with numerous jumps and runs. My angler was shaking his arms out as if he was riding on an old school Harley. About 25 minutes later he had wore the fish down and got him to boat side for a photo op.
Devon hung the sailfish over the side and pulled it alongside the boat for several minutes. The fish began to revive and started to regain it's composure. Several kicks of his tail let Devon know he was ready. Devon released his grip on the bill and we watched the sail swim away. The tally for this day was 12 dolphin, kingfish, silky sharks, cero mack, blackfin tuna, bonito, and 1 for 5 on sailfish. We had an awesome day with plenty of fish to clean so we wrapped it up and headed for the barn.
Keep an eye peeled for more reports because we were busy over the holidays. I have a little time to sit down and write another report or two before our next trips. In case you haven't noticed, we have some absolutely incredible World Class fishing here in Miami. To my northern friends up their in the frozen Tundra… pack your shorts, t-shirts, sunscreen, and head south. The highs are in the 80's, and lows in the 70's. Come get you some of this!
Capt. Jim
The BEAST
305-233-9996
beastcharters@aol.com
www.beastcharters.com