Tarpon in South Florida
by Capt. Pier Milito
Targeting tarpon for decades, I write this article prior to this year's tarpon season. I will do a little forecasting, ready? Water temperatures are going to start heating up in both the backcountry and the Florida Bay areas, this one variable is primarily responsible for what I like to call a warm welcoming to our yearly migratory friend, the tarpon. As I write this article in January I can tell you that many tarpon are already here chasing the big schools of shrimp primarily on the east side. However, in Florida Bay when you start seeing schools of mullet this time of year start looking for the big tarpon.
Fishing the south Florida waters my entire life I can tell you that these fish start to migrate into some of our local waters every year as early as November and December and continue to migrate southeasterly through our waters till July/August. As the months progress into the year so does the location of these migratory prehistoric goliath sardines. Early in the season (during the winter months) they tend to lay up in areas that you will not find them come spring time. During the no-wind days at about midmorning as the sun heats up the surface waters you can find these fish up at the surface just relaxing and soaking in the sun's radiant heat. Knowing where the migratory run begins and ends allows the south Florida fishing guide to put you (the angler) on these big, acrobatic, magnificent fish for many months every year. Other months of the year we have a great nursery of small tarpon that many anglers actually prefer because of their acrobatic abilities and quick release times in comparison to the larger fish. Some, very few, of the large tarpon are around year round, we call those "resident tarpon". Depending on weather, wind speed and direction and yes water temperatures you will have the opportunity to use different techniques of fishing to hook up with these silver kings. These techniques will include but not be limited to fly, spin, bait casting, plugs, plastics, live & cut bait (Don's bait & tackle).
While targeting the tarpon, especially in fairly clear water conditions, keep in mind that permit might also be around. Keeping a lighter spinning rod rigged up with a fluorocarbon leader and a circle hook with and a live crab can pay off.
As you fish during one beautiful March day with clear sky's and plenty of sunshine, specially after a cool night, look for laid up tarpon at the surface. The water closest to the surface starts to heat up and the tarpon will rise from the deeper cooler water to warm up with both the warmer surface water and the sunshine. These laid up fish are usually very slow moving and most of the time will take a fly, if you're not careful with your approach you will cause these laid up fish to explode with fear and leave you searching for more.
While targeting these large tarpon make sure you have fresh new lines on your reels and that all of your tackle is in tip top condition. These big fish will put you and your tackle to the test. There is no worse feeling than to lose a big fish after all of your and your guides' work because of tackle failure.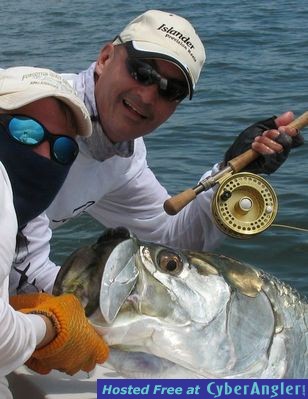 Capt. Pier Milito - fish was released unharmed.
After the initial hook up with a big one and while the battle is in progress keep in mind that five minutes of your rest time equals 30 minutes of tarpon rest time. Your goal after the initial hook up should be to land the fish as quickly as possible; this will increase the chances of survival for the fish. These big tarpon that are involved in an all out grueling fight for life with an inexperienced angler that takes over an hour to land the fish have a very poor prognosis for living after they have been released. After being released these tired fish usually end up drowning or are eaten by sharks.
Using the down and dirty technique that Papa Stu Apte has been preaching for years is probably the one single most effective fighting technique in landing big fish fast. Remember that the tip of the rod is designed for casting not fighting the fish; the butt section in the rod is designed for the fighting. All spinning, casting and fly rods have what we refer to as the backbone section towards the butt of the blank, knowing how to implement the use of this section will allow you to efficiently fight and land big fish fast.
Another technique you must practice to successfully hook up and land these tarpon is known as "bowing to the king." Tarpon will 99.9% of the time will jump out of the water when they feel the hook; this is when the tarpon usually spits the hook out and/or breaks himself free. Tarpon do not have much flesh or soft tissue in the mouth region, so hooking up and keeping a hook in a tarpon is very difficult if you don't drive/set the sharp hook initially. Bowing to the king is the act of pointing the rod tip towards the tarpon as he jumps out of the water, this automatically gives the tarpon a lose line. As soon as he hits the water again you resume the down and dirty technique and fight the fish hard till you land him. A tight line to the tarpon as he jumps allows him to pull away from your line which usually will either break your line or pull the hook out; we call this "spitting the hook."
I don't want to bore you with physics and marine biology but here's a little something to keep in mind. A 180 Lb tarpon suspended in the water actually weighs 0 lbs. All fish have the ability to become negatively, neutral or positively buoyant; this allows the fish to swim down into deeper waters, suspend themselves or swim up to the surface water columns. On initial hook up you are fighting the fish's ability to propel himself away from you and not really his weight. As soon as the fish jumps out of the water like the tarpon, sailfish, marlin and other species, you are instantly fighting against the actual weight of that particular fish.
So imagine this, you hook up with a tarpon weighing in at 180 lbs and your using 12 lb test tippet on your leader system (fly fishing) or 12 lb test line on your casting or spinning rod, as your fighting the fish he jumps and instantly jerks his head away from you and your tight line (you have not bowed to the king) in an instant your 12 lb test line has 180 lb of weight plus a head jerking power surge with no water resistance to slow the head jerk, what do you think will happen? That's right, your 12, 20 or even 40 lb test will break like a wet cooked noodle.
Captain fishes Islamorada/Upper Keys, Biscayne Bay, Flamingo/Florida Bay and Everglades National Park. Capt. Pier Milito is an IGFA Certified Captain; he is a member of the Florida Guides Association, CCA and a professional fishing guide for the Redbone Celebrity Fishing Tournament Series and for the IGFA / Rolex Tournament of Inshore Champions and has been guiding professionally for generations. He does tournament and fun fishing, but most importantly he loves his job. Don't waste more time, book a trip, call him at 786-295-4466.
"Some people dream, others make it happen."
Capt. Pier Milito
Phone: 786-295-4466
Email:
CaptainMilito@FishingAdventureCharters.com
Web Site:
http://www.FishingAdventureCharters.com