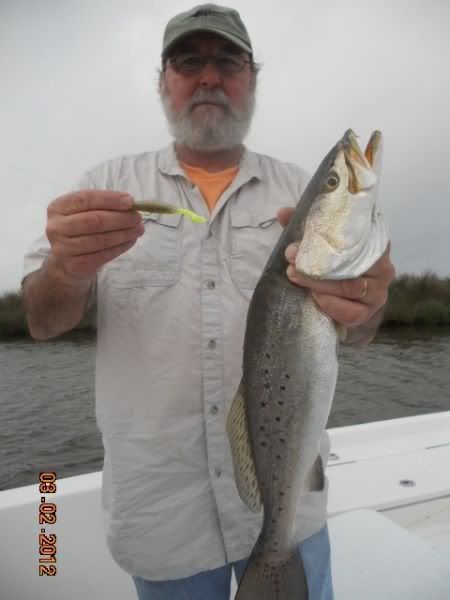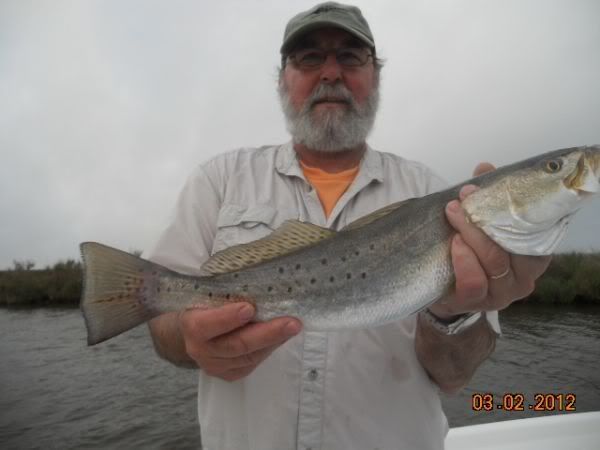 Chris Powell and Paul Cummins joined me aboard the big Bluewave today, in search of the famous yellow-mouths as usual. Our first stop had the fish coming in steady, but mostly small fish. we made a few moves pecking away at some keepers then decided to make a move. Second stop found some nicer trout up to 3 pounds and a couple reds. When the bite tapered out we were on the move again. The wind changed direction today and stained the water where the fish have been piled up slowing the bite down. Third stop had Chris with the hot rod slinging fish in left and right. We called it a day before noon and headed in. Great company and a good time as always, thanks guys.
Good seeing Capt's Tommy, Rob, and Elton out on the Du today.
Shrimp Creole Matrix Shad, and CoCo Pepper Cocodrie Cocahoes under a cork worked best early this morning. Our second stop had the fish hitting Shrimp Creole Matrix Shad and TTF Killer Flats Minnows in Chicken on a Chain tight-lined. Our third stop the trout wanted the Avocado Matrix Shad under a cork.
Dates are booking up quickly, don't wait to the last minute!!
Capt. Marty LaCoste
985 856 4477
www.absolutefishingcharters.com