October is here in Central Florida and the fishing has been spectacular. The second half of the Summer presented us with tough fishing conditions following tropical storm Debby. All it took was a few days of heavy rains to contaminate the river from all the run off which then helped to ignite our algae bloom which happens in our Lagoons annually. The conditions in our area have improved dramatically with sight fishing returning to normal for this time of the year.
The fall mullet run is in full swing and the ICW from Ponce south through both of the lagoon systems are full of life. The giant redfish are staging in Ponce Inlet on the out going tides feeding on live blue crabs and mullet. I like drifting with the boat using live blue crabs or smaller pass crabs, this allows for a perfect and natural presentation but can also be done from an anchored but as well.
These bigger redfish are also being caught in both the Mosquito Lagoon and the Indian River Lagoon. Look for these fish in 2ft to 5ft of water and on the edges of flats. They can be caught on a variety of artificial's from top water lures like Rapala Skitterwalks, Super Spook Juniors, and chug bugs. Switching to sub surface baits will get their attention too like Aqua Dream Spoons, Sebile Stick Shads, and DOA BFL or Baitbusters in natural colors. If they are not reacting to the artificial switch to live baits such as finger mullet, pinfish, pigfish or cut mullet.
In other areas of the lagoons if you can find the mullet schools you will find red fish and speckled trout. Match the hatch either with live bait or lures and flies imitating mullet. The water levels have dropped a little but redfish can still be found cruising shorelines in search of shrimp and crabs. Up in the shallow grass redfish are gathering in small groups tailing as they root through grass for shrimp and crabs.
These redfish will eat a live shrimp without a problem but will also take a well placed DOA shrimp.
A few weeks ago I had the pleasure of taking journalist Jan Maizler out in Mosquito Lagoon author of Fishing Florida's Flats. Jan was working on an article for Sport Fishing Magazine on how to catch redfish and speckled trout on ultra light tackle using 8' 6" rods with 5lb monofilament. We completed the task quick with live pigfish catching a few redfish up to 5lbs and 10-15 trout up to 5lbs. After getting what we needed for the article we switched gears and tried some sight fishing, we were limited on sun light but Jan sight casted 2 nice redfish up to 6lbs with DOA shrimp.
Fly fishing has been phenomenal with water conditions getting better, fish cruising shorelines, groups of redfish tailing up shallow, and an abundance of baitfish everywhere. Here's a redfish I fed with a shrimp pattern from my poling platform while fishing solo.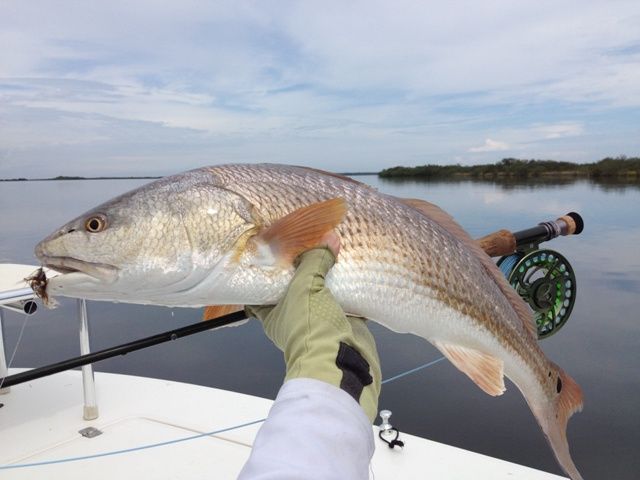 I've also spent a few days scouting the lagoons with fellow guide Capt. Joe Roberts of Indian River Guide service fly fishing from his canoe. This is a unique way to fish in our area something we both offer but is limited to one angler per canoe plus the guide. We both have canoes and can get together if need be for a second angler. We have had some amazing days lately catching 10+ redfish on fly in areas we can't access easily in our skiffs. All fish have been caught on shrimp and crab flies whether they were tailing in the shallow grass or cruising a shoreline with their backs out of the water.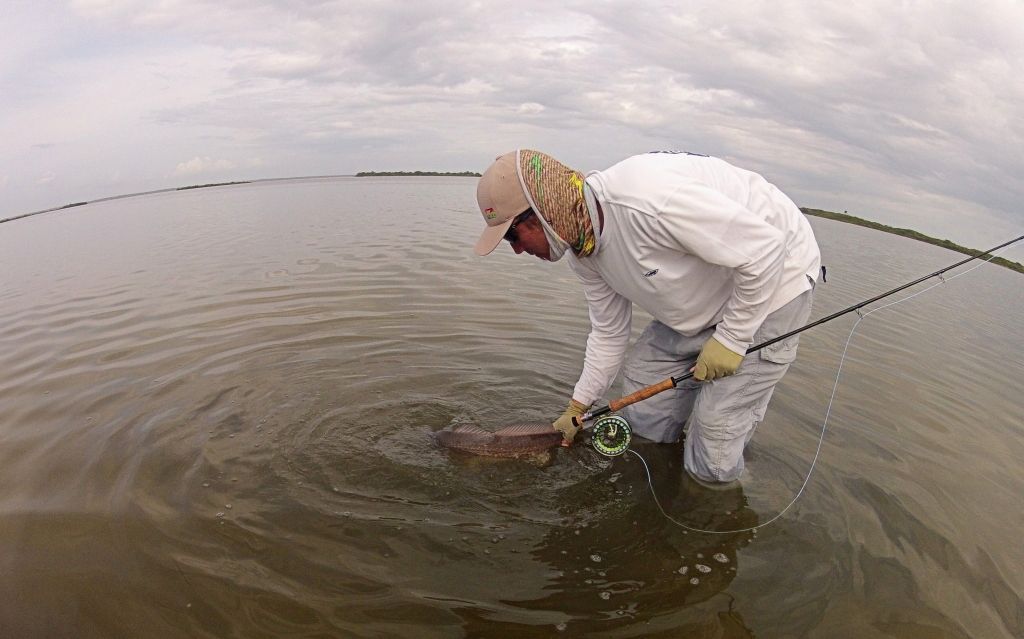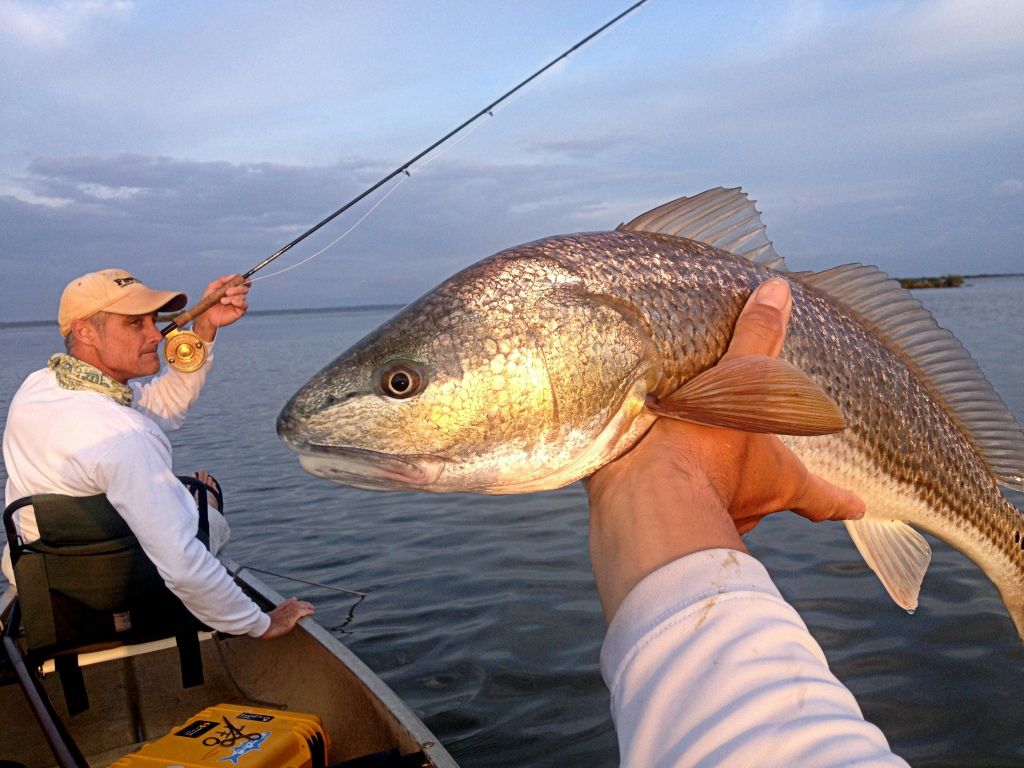 We've also been seeing tons of sheepshead all over the flats in sand holes, tailing in shallow grass and pushing a wake across the flats, we've seen a few close to 4lbs. We even found a few black drum tailing and cruising in shallow water one fell victim to one of my crab patterns.
There's plenty of great fishing opportunities this time of the year from big redfish and snook in Ponce Inlet and around the bridges on the out going tide. Look for tarpon anywhere in the ICW from Ponce Inlet south to the lagoons, you may see them striking mullet on the surface or rolling. Also jack crevalle and ladyfish busting mullet and shrimp on the surface throughout the ICW. And the redfish and trout bite throughout the lagoons will only get better as the water temps start to drop.
Capt. Justin Price, Right In Sight Charters
www.rightinsightcharters.com
Fly Fishing & Light Tackle
Mosquito Lagoon / Indian River Lagoon and
surrounding areas in East Central Florida