The Big "O"
Lake Okeechobee
Lake Okeechobee, which in Seminole language means "Big Water," is the second largest lake in the United States. Lake Okeechobee is approximately 40 miles north to south and 30 plus miles east to west and covers over 750 square miles. It is a very shallow lake with an average depth of 15 feet.

Alligators, all types of ducks, birds (ospreys, pelicans, and the occasional eagle, etc.) as well as other wildlife are seen on Lake Okeechobee.

The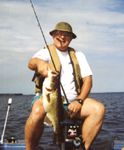 Big "O" is world renowned for its bass fishing, as well as speckled perch (crappie) and bluegill (bream) fishing. Most of these species of fish are caught in 2 to 6 feet of water, in areas of heavy vegetation. People from all over the world come to fish Lake Okeechobee – especially popular is the bass fishing (click on photo for a larger image, and use your browser's back button to return).
Wild shiners, artificial for bass, minnows, jigs for specks, crickets or spinners for bluegills, along with normal tackle, fly rods & light tackle can be used.
Come down to Clewiston, Florida and fish the Lake Okeechobee with Fargo.
More About Fargo's Fishing Guide Service
We fish for Bass, Bluegill and Specks (crappie). The fishing is done on Lake Okeechobee. Here are some of the particulars:
A full day is approximately 9 hours and ½ days are around 4 ½ to 5 hours.
Fishing can be done with either shiners or artificials.
Rods and reels will be furnished if you do not bring your own.
Cooler with ice on board.
You will be obligated for live bait, food and drinks.
Bring a raincoat, sunglasses and sun protection.
Bring a camera (you might need it :-)
Excellent accommodations available
Cost for fishing Lake Okeechobee:
$200 for a full day – two people
$150 for a ½ day – two people
Additional charge for a third person
Summertime Fishing Specials On The Legendary Lake Okeechobee
July thru October - the following:
1/2 day guide, 1 night in the Motel $170.00
1 full day guide, 1 night in the Motel $220.00
1 full day and 1/2day guide, 2 nights in the Motel $390.00
The rooms are at the Marina; they are very nice one room efficiencies with 2 double beds. Once you get there, you really don't have to drive anywhere – just walk out of your room and we'll go fishing.
Maps of Lake Okeechobee
I have 2 maps of Lake Okeechobee - one is a laminated, what we call a place map; the other is a large Sportsman's map with a lot of details on the lake and on this special introductory offer, I will highlight about 20 of the better areas around the lake trying to give you the how, what and when and a scale of 1 to 10 of the spawning within this area. We will be glad to ship you both of these maps for only $10. You can send a check or money order to Fargo's, 1550 Sassy Rd., Clewiston, Fl. 33440 or give us a call and we will explain more in detail.

---
I am not going to promise you a wall hanger or tremendous numbers, but I promise you I will work and do everything I can to help you catch fish and have an enjoyable day on Lake Okeechobee.

Jim Wells

See my current fishing report on CyberAngler.

---
Fargo's Guide Service
Home of Fargo's F.O.S. spinner baits
Address:
1550 Sassy Road
Clewiston, FL 33440
Phone:
1-800-793-5741
Local:
941-983-5741
Fax:
941-983-0893
E-mail:

[email protected]
---
Design & Hosting
by