The Hunt For Redfish in October

By Capt. Alex Crawford
On that coldest October morning, as the rising new day sun struggled to burn the low fog off the massive St. Johns River, we waited impatiently on the dock for our friend Captain Fred to arrive. A quick shiver ran down my spine caused not by the cold, but by building anticipation and uncontrolled excitement of what I knew to be the day ahead. A great day to be alive and to Hunt the Reds of October.
First was the distant murmur of the outboard, and then, through the rising haze, the river boat was at the dock. As always, Captain Fred, right on time, the consummate professional smiling, hugging, shaking hands and loading us and our pair of eight pound spinners into his floating office. What a perfect vessel for this day's mission I thought, as we headed south to the jetties.
On the west side of the great river's mouth, the immense naval carriers and destroyers loom high overhead like giant Star Wars machines. The east Jetty is our destination. No bouncing over 4 footers offshore today, I smiled to myself. Just a flat calm day on the pond, get a fix of salt in the nose and pull on big reds with Captain Fred.
As we come off plane, I stand ready at the anchor as Captain Fred starts his familiar visual triangulation process,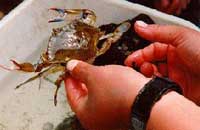 an exact skill honed over thousands of days of practice. No bottom machine, no loran or GPS numbers are necessary, just a simple command, "All Right, that ought to do it", as I drop anchor on top of a super feeding highway for Bull Reds in the middle of the river. Fred has already got Robyn rigged with one of his secret weapon baits, a fresh cracked blue crab claw. We're Fishing!!!
Penn 912's spooled with 25 are mounted on stout sticks with a fast action tip, the weapons of choice for these huge spawning females. Fish finder bank sinkers slip down to 100# barrel swivels, with 30# leaders (abrasive mandibles) and are finished with a wide gap kahle hook.
Ten minutes past as we settle in, rods in hand, waiting for Mr. or Mrs. Red to scent our crab finger appetizers. Captain Fred, always the gentleman, allows ladies first as Robyn's rod tip jolts into the water. The Hunt is over, now the battle is joined. Squeals and giggles rise above the whining drag as Robyn announces, "Fish On!". As line melts off the trusty Penn, I look at Fred like, "Who has who, here?". He smiles and flashes me a thumb up.
Pump and wind, pump and wind! Get some back, lose it again and again. I'm thinking a big Ray or Shark, Captain Fred knows better, another huge Red of October.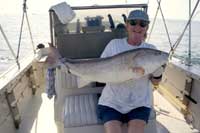 Finally and mercifully for Robyn, the outsized net slides under the great fish and it is over the gunnell. A quick measurement show 39 inches in length and a fat spawning girth. The photo op is speedy and Fred does his obligatory air bladder deflation. Resuscitation accomplished, the pregnant red channel bass is on her way, no worse for wear and thanked for the memories. I'm visualizing the photo article in the Jacksonville Newspaper Fishing Reports, headline, "Captain Guides Captain to new personal best 40 pound Redfish."
No one would believe this crazy fish story without the photos, but, just 20 minutes later, I hook up and land an identical sister fish that also measured 39 inches. Go Figure? Sometimes I think Captain Fred knows these fish by name and he can simply call them up on demand. What a great fisheries success story.
Since it is only 9 am and the water has slowed, Fred invites us for a run up the creek and we naturally accept. "Up the Creek" means we'll head north up the intracoastal waterway towards Amelia Island and the Georgia line. The rest of the day will be spent fishing the huge expanse of tidal marsh primarily northwest of the ICW. Sight fishing Reds in the sawgrass marsh creeks and potholes is a specialized game and Captain Fred has proven to me over 10 years that he is the best of the best.
At low tide when the marsh oysters bars are fully exposed, ravenous packs of Reds move into shallow creeks to feed on finger mullet, crabs and shrimp. A shallow draft vessel is required to access these remote, unfished areas, some no bigger than overgrown mud puddles. A stealthy approach will produce shots at many more fish.
Depending upon the time of year, a mixed bag of fish can be expected. On past trips we have caught Trout, Black Drum, Flounder, Sheepshead, Jacks and Lady-fish.
The tackle is basic. Graphite sticks with eight pound class spinning reels will do the job. A very small barrel swivel tied to a 15# leader works best with sharp oyster shells. A 1/0 slider jig with a big live shrimp is a deadly bait fished slowly near an oyster bar.
What an absolutely incredible day we had "Up The Creek". The final tally was 76 Reds released! The Hunt For Reds in October was a success. Now, having to wait till next October is the hard part.
Capt. Alex Crawford is a full-time fishing guide based in Apalachicola, FL
Captain Fred Morrow is a full-time fishing guide based in Mayport, FL
Captain Robyn Morgan Wichelt is a full-time fishing guide based in Carrabelle, FL

Click on any of the above photos for larger version, remember to use your browser's back button to return.
Capt. Alex has fished the forgotten coast since 1980. Top Knots is a 23' center console Wellcraft with a 200HP Yamaha outboard. First class tackle includes Penn Internationals, Ahab Fin-Nors and Shimano TLDs and spinners. Electronics include Sitex Color bottom machine, Magellan and Garmin GPS, Standard VHF fixed mount and Standard handheld and a Clarion CD Player. All USCG safety equipment is always in serviceable condition and onboard.

Please visit his website – TopKnots.com – for more complete information about chartering a fun and productive inshore or offshore fishing, or eco-touring day on Florida's pristine unforgettable coast.

Contact Info:

Top Knots Charters
436 Hwy 98 West
Apalachicola, FL 32320
Phone: 850-653-1325
Alt: 850-697-9690
Fax: 850-653-1324
Email The Captain
Visit His Web Site