Reading Between the Lines

Developing Underwater Detection Skills
By Capt. Scott Graham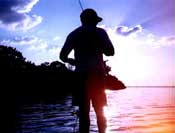 The scene is a familiar one as a hopeful angler stands on the deck, anticipating that perfect cast to a big redfish or maybe the snook of his dreams. At first, visibility is limited due to the early hour. But as the sun continues to climb, a sufficient level of visibility is achieved for the locating and casting to individual fish.
Soon, a pair of nice reds are detected as they work their way down the shoreline. Soon it becomes obvious that they are heading our way. They continue to close the gap while taking the occasional pause for a swipe at passing prey. The best of all worlds I think, because these reds are close to the surface at less than a foot, they are highly visible and ready to eat.
I tell the client to get ready as the duo should pass right in front of the boat. "100 ft., 70 ft., they're about 50 ft. at 11 o'clock," I announce. The cast goes out, but it is off target. All the while the fish continue to close, 20 ft. at 2 o'clock , I am starting to wonder what the angler is waiting for, as surely he can see the fish which are now passing just 15 ft from the boat.
"No, I didn't see them," he says. I think, how could he miss it?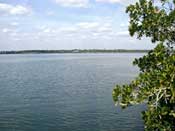 You hate to see someone blow "easy" fish like that but it happens a lot. Here is another scenario. I shut down the outboard and let down the trolling motor as we slowly approach a grassy edge where the flat rises out of the deeper water. I point to what seems like an obvious color change where the dark green of the grass flat meets the lighter colored sand bottom. The angler hesitantly nods.
From there we proceed to anchor and begin wading in about waste deep water. Then we have a discussion about our game plan. "Now right over here is a series of sandy holes and broken bottom that alternates between grass and sand. The idea is to wade down beside these holes just close enough to reach them with your cast." The angler gives me another rather hesitant nod but is nonetheless anxious to get to it.
Minutes later I notice that he is a little off track as he is getting too close to the area he should be casting to. Things continue downhill from there and soon he has waded right through the holes that we were targeting. None the wiser, the angler pushes on blindly probing the waters. Of coarse by now I had a strong feeling that somehow we weren't "connecting".
Then my suspicions are confirmed as he announces that he doesn't see these white spots and broken bottom we had discussed. The saddest part of this tale is that at this point he was standing in one of the sand pockets that he somehow couldn't see. So we walk over to the edge of the hole where grass meets sand. From here we follow the contour with our eyes and with some effort, the angler is able to make out the "structure" in question.
So what is the point of all this? Well, after living and reliving similar scenarios on a regular basis I have assembled a couple of somewhat surprising revelations.
The first being that most fisherman have little ability to see below the water's surface in a meaningful way. And the second being, that this type of vision does not come naturally but is learned. The prospective flats fisherman can lay down his hard earned money on the best in boats and gear but if he can't see and understand what is under the surface, he has virtually missed the boat!
Much like anything else worthwhile in life there is a direct correlation between the time and effort expended and the realization of reward. Invariably, the best flats fisherman will be the one that has refined his "detective" skills over many hours on the water. But where does that leave the guy that is starting out? Well the good news is that there are things that you can do that should have an immediate impact on your fishing success.
Polarized Glasses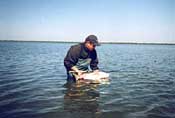 If you are going to fish the flats, the first thing you should do is obtain some Polaroid sunglasses. Now this might be obvious to some, but many fisherman hit the water without them. Additionally, many people assume that expensive sunglasses are polarized but that is not necessarily so. Also, polarized glasses vary in quality and yes many of the high dollar models are superior and well worth the investment. However, I have found that the $20 variety are quite acceptable and if you are prone to sit on or lose them like me, its not quite as big a deal to replace them.
There is one important thing to remember when purchasing sunglasses in any price range and that is weather the glasses wrap around and fit closely to your face. Glasses with side panels can prevent light from entering and reflecting off of the inside of your lenses which would in effect increase glare and cut down on visibility.
Proper Head Gear
At the risk of sounding too simplistic I will also mention here that you will increase the performance of your sunglasses substantially by wearing a hat with a sufficient bill to pull right down over your sunglasses to further cut down the glare that reaches your eyes.
Low Water Scouting
If you knew you were going to take a test, how would it effect your score if you could get a copy of the test and study it ahead of time? Well, when your being tested on your knowledge of the flats, its okay to cheat a little by sneaking out at low tide. With little water to hide the correct answers, you can commit to memory all the potholes, shell bottom, troughs and other fish magnets that are not quite so obvious at high tide. Or better yet, don't trust it to memory.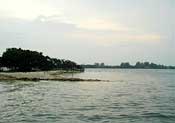 Bring the appropriate topo map and make plenty of notes.
The best time to do this kind of research is around the new and full moons when tides reach both their highest and lowest levels of the month. So the point here is that if you already know that a particular bottom feature is an area, it is going to be a lot easier to see it and properly fish it.
Tune your Eyes
No matter how much you plan ahead, sooner or later you are going to find yourself trying to fish strange water where you aren't quite sure what is under the surface. Also, present conditions such as wind or low water clarity make reading the bottom that much tougher.
Well here is something that might seem overly obvious but it is often overlooked. When looking for breaks in bottom contour such as channel edges, grass lines or sandy holes, start right under the boat where bottom features are most obvious and follow it out with your eyes. Focusing on the target close up has a way of tuning your eyes into the target. Practice seeing how far your can progress away from the boat and follow and make out the structure change. I know this sounds simple but it really is the key to training your eyes to pick up these subtle changes that can spell success or failure in locating fish.
Let your Feet do the Walking
The guy that doesn't get out of the boat now and then will always play second fiddle to the guy who's willing to get wet and let his feet do the detective work for him. At times the boat angler has the advantage of seeing further by nature of his height advantage. That is not always the case though, particularly in the shallows where fish will often spook well out in front of the boat, here the boaters advantage is nullified.
In this case the wader can't see very far but it's not a problem because the fish are usually oblivious to waders. In fact there are times during low light levels or muddied water when the waders feet do all the "seeing" as he feels his way down the edge of a channel or sand hole.
Practice Makes Perfect
When you become more conscious of what lays under the surface you are sure to enjoy a new level of proficiency in your fishing, which is largely what we are striving for. What often happens though is, that once we have several productive "spots" under our belt, we tend to become lazy. Rather than finding new spots the temptation is to "rest on our laurels" and head for the same old "honey holes" time and again.
I can see a number of problems with this approach. Fishing pressure, seasonal change and a number of other factors can cause last years or maybe last weeks hot spots to be duds. In this case the lazy fisherman might find himself out of the fish and a little rusty in the skills that it takes to get back on the fish. The point here is that you should try to learn something new on every trip. Always keep your eyes open for interesting features when you are traveling to a certain spot. Make a mental note or better yet write them down for future reference. Then set aside time to try them out.
One note of caution here, don't wait till the fishing is poor to try new spots. How can you have an accurate idea of a spot if you have only fished it during less than optimum conditions? One good way to avoid this is to designate one trip a month as a scouting trip. An extra dose of "will power" is important here as you must keep trying new spots even if it means leaving the fish biting in a proven location.
So we've talked about sunglasses, proper head gear, low water scouting, how to tune our eyes to notice subtle details, how wading can pay dividends in truly understanding the topography of a particular flat and lastly how that regularly scheduled scouting trips will keep you sharp and on the fish. Next trip out, give these points some thought. Here's hoping that your enjoyment level will rise accordingly.
Click on any of the above photos for larger version, remember to use your browser's back button to return.