3 Bones for 3 Bros

By Kristian Higgs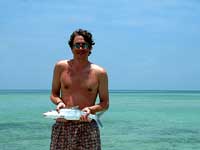 At 4:55 AM, with 15 minutes of sleep, we stumbled to the Hilton marina where we were to be picked up by Captain Lenny. It was fairly dark out and given the fact that the bars closed 55 minutes prior, we had difficulty locating the Captain and his boat. Then through the darkness we could see was a pair of glowing, bright white tennis shoes. "That's him," I told my younger brother who was absent the previous year, "Put your sunglasses on and don't look directly at them."
As we loaded our gear and beer, Captain Lenny started the motor and we began to catch up on all the events that had transpired since we last went stalking tarpon the previous year. Apparently not much on our side, same with Captain Lenny, who still sports more Patagonia than an authorized dealer and who has more Adidas tennis shoes than Ann Kournikova and Imelda Marcos combined.
After situating what we had managed to remember to bring, we headed out into dawn's darkness for destination unknown with the wind and excitement of possibility snapping us out of our stupor. Scanning the horizon I knew Captain Lenny was feeling the pressure because on our first outing he brought the fish to us but nothing, not even my money casts, could entice the tarpon. I could see the determination in his face as we headed toward what seemed like an arbitrary location, but the Captain knew exactly where we were going. Without any visual points of reference, he cut the motor, hopped on his platform and started poling. Thirty seconds later, as if Lenny were the pied piper, a school of tarpon magically appeared, rolling just out of range. After a few minutes of empty casts, Captain Lenny got on his cell phone and called a fellow Captain to report that these playful monkeys were too busy frolicking in the shallows to pay our shrimp any mind.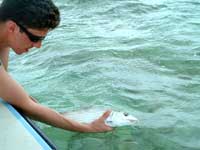 Captain Lenny then holstered his pole, put on his game face and we jetted towards the flats and a beautiful sunny day, to hunt our Ace of Spades, the bonefish. This is why we had hired Lenny: to stalk the gin clear waters of the flats for these elusive buggers. We all kept our eyes wide open acclimating them to the sea floor as the Captain reiterated what we were to do once we spotted the moving shadows and instructed us on how we were supposed to successfully land them. Time soon became irrelevant out on the flats as we searched, measured only by the sound of tiny waves lapping at the skiff and the rhythmic sound of the fiberglass pole burrowing into the sand.
Then without any warning, I spied a suspect group of greys and Lenny immediately confirmed their presence, pointing out the best target for a cast. My shrimp landed in the neighborhood and was graciously welcomed within seconds by a soft tug followed by my reel being ripped of its line like a kite caught in a tornado. I fought this bandit with smiles as my two brothers, especially the eldest, nervously and jealously wondered if that was to be our only action of the day. Once it was brought to the boat and many pictures were taken, we released the formidable fish and looked for more. Captain Lenny was then more determined to get everyone a bonefish, since the code of brothers forbids one catch among three anglers.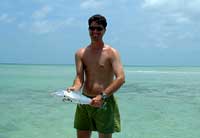 A short time later Captain Lenny's patience and skill produced another feisty school of bones coming back for more. This time it was John's turn to test his meddle against the grey ghost of the flats. John's cast hit the mark and the famished fish took the bait and rocketed towards Cuba, while his buddies scattered like the Republican Guard. With a squealing reel, John took to the bow and battled the fish in a delicate tug of war. John kept his composure and finally took the offensive, landing the fish who had haunted his dreams. Contrary to previous promises and to our dismay, John did not "cry like a schoolgirl," and cracked open a cold one in celebration, thanking Lenny for his expertise.
Blake, the youngest and oddly enough, the tallest was still empty handed and became the focus, when after a mild stretch of gazing at the dream like flats, Lenny spotted yet another school and some ominous clouds closing in. Blake had one opportunity to complete this trifecta before we had to motor and came through in the clutch, presenting his bait to the bonefish on a platter. Not one to turn down a free meal this fatty sucked in the bait and bolted, trying to burn off all the calories in one sprint, then another and another before he finally could resist no more and subjected himself to a few embarrassing photos of him in hands of an angler. This last but not least bonefish was the largest of the lot and it was not a minute later that our window of opportunity soon closed as a storm rolled in like the curtains after a crowd pleasing show.
Fortunately the sun broke again as we were triumphantly heading back to the hotel, giving us the opportunity to stop off at a local sandbar for a few coldies and a swim, where we toasted the Captain and the beautiful, bountiful waters of Key West.
Click on any of the above photos for larger version, remember to use your browser's back button to return.
Capt. Lenny grew up on the banks of Lake Erie and spent his summers fishing and mating aboard walleye charter boats. When his family purchased a vacation home in the Keys, he was hooked, and then began his dream of becoming a fishing guide. Later, he honed his fly casting skills in the Cascade Mountains of Oregon while attending college. Upon moving back to the tropical waters of Florida, he achieved his masters captains license. Capt. Lenny currently resides in Key West, FL where he is a full time Flats Fishing Guide.

Contact Info:

Bonefishing Key West
Phone: 305-296-2802
Alt: 305-304-0154
Email The Captain
Visit His Web Site